Straight blades for jig saw, band saws, scroll saws and reciprocating saws vary by number of teeth per inch (tpi), the set of the teeth, the rake angle of the teeth, and the width and thickness of the blade.
The type of metal used to make the blade and the presence of carbide or other hardened steel tips affect the longevity (and the price) of the blades. Blades for some tools have numerous tooth configurations: for example, band saw blades can be purchased with standard teeth or skip-tooth and hook-tooth configurations.
Circular saw blades are fitted onto portable circular saws, table saws, radial-arm saws and power miter saws. Select blades by matching the number of teeth per inch to the task at hand but make sure the tpi number is for the correct blade diameter (anywhere from 3 ½ inch to 18 inch or so, with 7 ¼ inch the most common for portable circular saws, and 10 inch the most common for table saws, power miter saws and radial-arm saws.)
COMMON CIRCULAR SAW BLADE STYLES:
General purpose combination blade (good for ripping)
 Thin-kerf anti-kickback blade
Roofer's blade (for portable circular saws)
Trim-cutting blade (for clean, relatively fast cross-cuts)
 Carbide-tipped cross-cutting blade (good for power miter saws)
Generally, more teeth per inch produce cleaner, slower cuts.
Reciprocating saws are used to perform many different construction tasks. The size and shape of the blades used changes dramatically according to use. Keep a complete set of blades in your saw case.
A good set of reciprocating saw blades includes:
6 inch, 18 tpi blade for heavy metal
 6 inch, 10 tpi blade for general cutting
 9 Inch, 6 tpi blade for fast cuts and general roughing in.
12 inch, 8 tpi blade for cutting timbers and other thick materials
 6 inch, 4 tpi blade for fast, rough wood-cutting
 6 inch, 5 tpi blade for fast, cleaner cuts
3 5/8 inch, 14 tpi blade for curved cuts in hardwoods.
How To Choose Saw Blades
Don't know which saw blade is right for your project? Get our tips on which saw blades work best, details on specialty blades plus more helpful tips.
How to choose a Circular Saw Blade
This is a simple explanation and the pros and cons of the three blades I use in my Inverted circular saws.
Choosing Circular Saw Blades
Watch as Ace's Home Expert, Lou Manfredini, gives you the advice you need to select the right blade for your project. Always follow the manufacturers instructions before using any product.
Reciprocating Saws & Reciprocating Saw Blades: Woodworking for Beginners
Reciprocating Saws or Recip Saws as they are commonly called, are a favorite tool for anyone doing DIY and home renovation projects, but they can also be used in woodworking and with the huge variety of recip blades for metal cutting and wood cutting and even for wood with embedded nails and screws, recip saws can save huge amounts of time.
Reciprocating saws come in both corded and cordless models and the most useful saws are those with more powerful batteries and amperage.
How to Choose the Right Sawzall Blade – Tips from a Demolition Professional
In this video an expert in demolition explains how to choose the right Sawzall blade.
Being that I do this as a professional, I advise the following:
Use 3 TPI blades for wood.
Use 5 TPI blades for wood with nails.
Use 18 TPI blades for common metals.
If possible select a thick blade with a carbide tip such as the Diablo DS0903CP. If you follow these basic rules you will choose the best reciprocating saw blade for the job.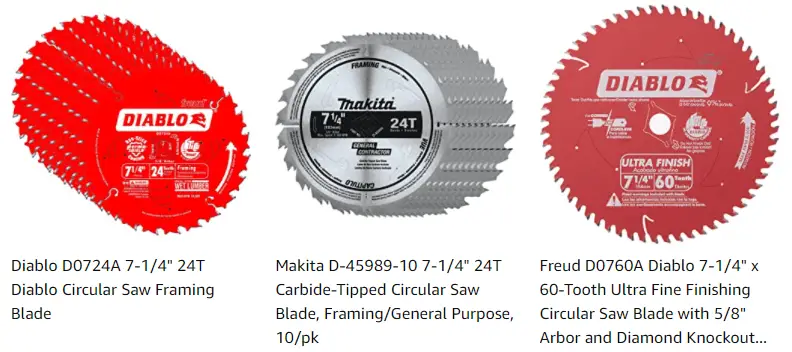 Recommended Posts: