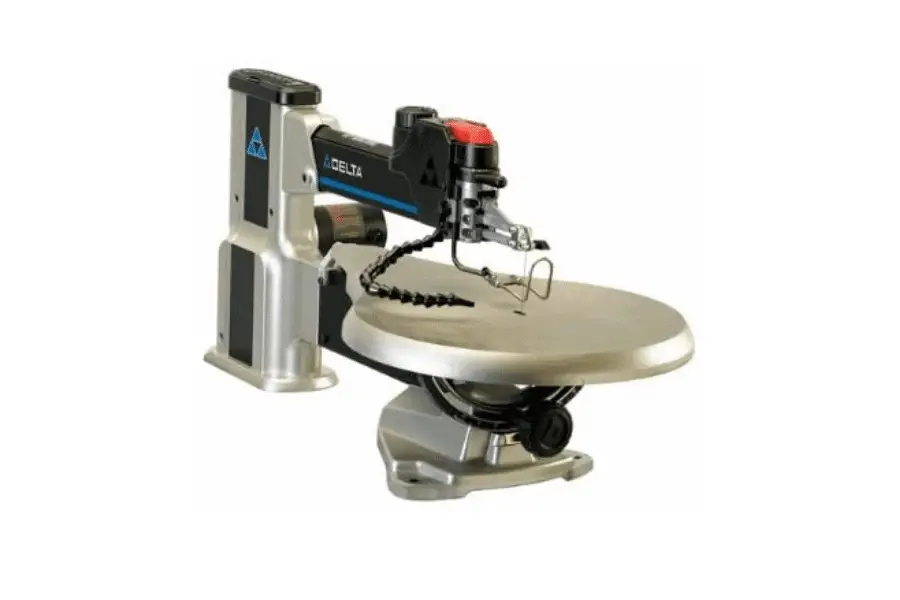 Are you a woodworker and would like to add a personal creative touch by cutting intricate curves and joints for your DIY home projects? Then picking the right Scroll Saw Tool is important to perform all your activities precisely.
The Delta 40-694 20 In. Variable Speed Scroll Saw is perfect in terms of price and features.
Why Choose The Delta 40-694 20 In. Variable Speed Scroll Saw?
There are a lot of scroll saws on the market, but we recommend an affordable yet good quality brand like Delta. It is user-friendly, perfect for beginners and the brand offers different models depending on the capacity, speed, blade and drive that you need.
Product Specs:
Speeds: 400-1,750 SPM
Capacity: 20 in.
Stroke Length: 3/4 in.
Table Size: 16 in. x 24 in.
Table Tilt: 0°-45°, Left and Right
Cutting Capacities: at 90°: 2 1/8 in. at 45°: 1 5/8 in.
Assembled Depth: 39 in.
Assembled Width: 16 in.
Let's review some of its key features:
Precision With Performance
It's performance makes the Delta 40-694 20 In. Variable Speed Scroll Saw exceptional – As it's pin-less blade with adjustable control speed provides ultimate control over the tool for precise yet fine detailing. The tool operates from 400 to 1750 SPM (strokes per minute) allowing you to cut through both hard and soft word easily.
Flexibility With Large Tilting Table
Its spacious tilting table surface gives you the freedom to handle large projects precisely. Its 16 by 25 inch table can be tilted up to 45-degrees in both directions, either left or right. Due to this special feature, it becomes incredibly convenient to use for angle cutting.
Easy Dust Removal With Hose Blower
The dust hose is one of the most important features to make any Scroll Saw prominent. This Delta scroll saw's smart yet easily adjustable dust hose design allows you to conveniently remove dust while working on your workpiece because it has a fairly long yet flexible dust hose blower.
Easy Threading With Lifting Arm Feature
The upper arm of this Delta Scroll Saw can be lifted, allowing easier threading. Moreover, the arm can be fixed in a raised position for user ease via a button located at the back end of the tool.
The device comes with a blade tension adjustment feature that helps to increase the lifetime and accuracy of the blade. You can easily adjust with a lever located above the blade arm. Its upper arm lifts and locks in the raised position during blade changes or while adjusting blade position for fretwork.
The blade is locked with a clamp, making it extremely easy to change the blade without using any tool. It's as simple as one, two, and three because you just need to rotate the clamp and have its blade in your hand.
Amazingly Quiet With Low Vibration
The design is crafted with a parallel-link arm, which reduces its vibration and noise. There is minimal vibration; thus you can work on those masterpieces with full concentration.
Delta 40-694 Scroll Saw Assembly
Pros
Adjustable blade speed.
Easy to change the blade without using any tool.
Lifting the upper arm with locking features.
Low noise helps you to concentrate more on precision.
The design of the lever for blade tension control is extremely easy to use.
On-tool blade storage provides neat and organized protection for scroll saw blades.
Cons
Not good for those who prefer working with dust bag rather than dust hose.
No in-built light for more precise cutting; you can install but cost extra.
The upper arm lock button is quite difficult to reach.
Important Safety Rules While Working with Delta Scroll Saw
If you want to keep your fingers and parts of your body intact, here are a few of the rules that you should stick to:
Lower Down Clamp – Lower down clamp as close to the wood as possible. This is to hold down your work and also prevents your fingers from slipping into the blades.
Proper outfit – Don't wear loose clothing, remove jewelry and tie back any long hair. Wear safety glasses. There's a reason why carpenters and people in the trade wear overalls.
Conclusion
Delta 40-694 20 In. Variable Speed Scroll Saw appears to be an impeccable pick for the price compared to other popular scroll saws. It has many advantages on top of being affordable and offers flawless features to woodworkers.