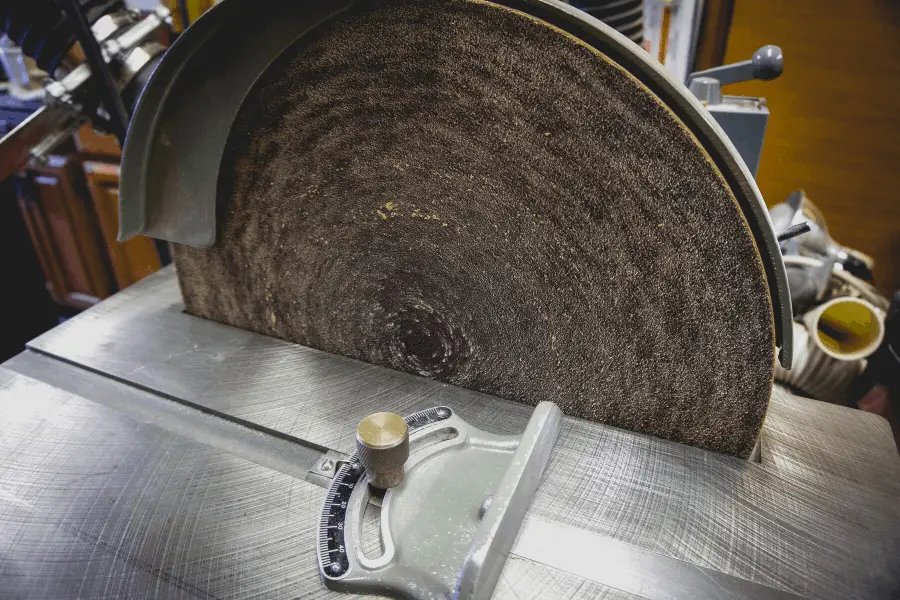 The Disc Sander is a unique benchtop sander that has a circular abrasive sandpaper that is mounted on a circular plate.  There are so many helpful options when it comes to sanding down your project.  Each tool has a specific purpose and function that separates it from the others. I've researched through the internet and put together a quick summary on the Disc Sander.
What is a Disc Sander used for? Disc sanders are benchtop sanders with a circular sanding disc attached to a circular plate mainly for shaping wood pieces. They are commonly used for fine-tuned finishes, smoothing end grain, straight cuts, miter cuts, sanding curved edges, sanding curves or bevels and any kind of shaping necessary.
Keep reading below to learn more about the Disc Sander and what it can be used for.
What Is A Disc Sander Used For?
The Disc Sander is one of those unique types of sanders which has a circular abrasive paper that is mounted on a circular plate and is used for shaping wood.  The disc sander is used for various activities such as removal of large amounts of materials, shaping around corners as well as handling end grain work.
Disc sanders are ideal for small projects. They are not perfect for large projects like sanding cupboard doors and panels it is better used for small and simple woodworking projects.
A disc sander primarily smooths a surface especially wood but can work also on metal. It offers convenience and less effort during the process compared to doing it manually. It is easier to automatically finish your sanding and move to the next process easily with the disc sander.
How To Use A Disc Sander. 
Most of disc sanders have a support table with a miter slot. The purpose of the miter slot is to ensure that an angled or straight end grain work is achieved by sliding a jig or miter gauge through the miter slot to help support the wood.
It is important to follow some procedures when using the disc sander. Ensure that the switch is off before plugging in the sander. The abrasive paper must be in good working condition free from worn out sections and firmly attached to the machine.
Subscribe to WOOD magazine on Youtube
Disc Sander Uses:
Providing fine-tuned finishes
Disc sanders are known for their fast track and effectiveness in providing fast finishes. It also specializes in providing quality finishes on the metal or wooden material at hand. The freedom and flexibility available with this sander allows you to work quickly and creatively. After using this sander your work piece will be well polished and smooth giving it a stunning and appealing look for the final product.
The disc sander ensures that there are no rough edges or coarse areas on the given materials as well as the materials are smooth and have a top-notch finish.
The disc sander is a multifunctional tool that also handles various types of metals. They can sharpen tools, blades, and remove material from tools in addition to shaping wood.
It is important to understand that disc sanders come with various types of disc wheels. The wheels have varied levels of grit which is primarily dependent on the material your using on the sander.
Because the sandpaper is attached using an adhesive once you remove it from the wheel you aren't able to reattached. It is best to use it through it's full useful life before removing.
The advantage of using a disc sander is that it is effective in handling any given material with ease and yields quality results.
They are a powerful tool that helps in handing the shaping of wood in a fast and effective way. It does a more efficient job compared to the manual sanding and brings about top-quality finishes.
When working with the disc sander, it is important to securely hold the work piece in place, apply just enough pressure, and let the sander do the rest. Taking precautions when handling the disc sander is very important as with any other woodworking tool.
4 Affordable Sanders That Will Take Your Woodworking To The Next Level
Subscribe to Steve Ramsey – Woodworking for Mere Mortals on Youtube