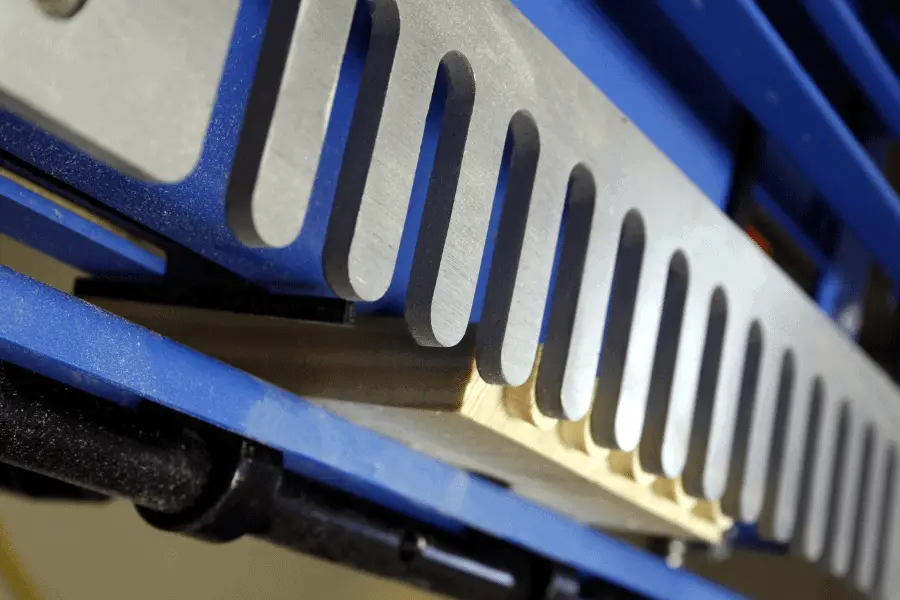 The dovetail joint is considered one of the strongest joint methods in making things like drawers and cabinets. For this, woodworkers apply different techniques and some prefer to hand cut dovetail jigs but using a dovetail jig can be quick, easy and efficient to create your dovetail joints.
What is a dovetail jig? A dovetail jig is a device that gives you the freedom to efficiently hold a piece of wood and guide your tool operating on it to cut pins and tails for your dovetail joint.
Keep reading below to learn more about dovetail jigs.
What Is A Woodworking Jig?
Woodworking jigs are very handy, and the main purpose of using a woodworking jig is accuracy, interchangeability, and repeatability.
Some pre-made jigs are available on the market, but we highly prefer to make our own woodworking jig. This will help in polishing your woodwork skills.
What Is A Dovetail Jig?
A dovetail jig is a device that gives you the freedom to efficiently hold a piece of wood and guide your tool operating on it. It's a device that holds lumber in an upright position so that you can cut with a your cutting tool. It helps woodworkers easily make finger or dovetail joints when constructing boxes and furniture items.
Benefits of Using a Dovetail Jig
It's convenient to make Dovetail joints with a Dovetail jig, which is the strongest yet mechanical free method of creating wooden joints.
You don't require any fasteners, glue, screws, etc. that help create a neat yet smooth wooden joint.
It provides a large surface area for gluing (If needed)
You can easily control the visibility of joints either you can hide or make it visible.
With dovetail jigs, you can easily hold two wooden pieces together effectively.
Dovetails joints created with jigs look incredibly amazing.
How To Use A Dovetail Jig?
Before using your dovetail jig, make sure that all attachments and parts of the tool are assembled correctly with no loose parts. 
After installing the tool correctly, the next thing is to select the template according to the joint you want to make; the template can be a through joint, blind or semi-blind type. 
Before starting work with the actual piece of wood, either for drawers or cabinets – It's recommended to apply the template on a piece of scrap wood to make sure that it's working well.
Before starting your joint plane the surface of the piece of wood.
The Functionality of A Dovetail Jig
A dovetail jig's functionality depends on the basic types of jigs or the attachments they have! Some dovetail jigs require a guide collar on the base of the router while the others have a bearing tipped bit for the same purpose.
Some of the dovetail jigs are used on a router table to perform the job. Regardless of the type, the main functionality of the tool remains the same, and they are used and selected for making strong and attractive joints in terms of drawers, cabinets or other household items that fall in this category.
How Many Types of Dovetail Attachments?
Deciding which type of dovetail jig to opt for on your next DIY project is dependent on several factors, such as design and function. These joints are used to look attractive in terms of visual appearance.
Types of Dovetail Joints?
A sliding dovetail is an amazing tool that's used to join the edge of one wooden board to the face of another without using any mechanical fasteners or glue. This self- locking joint is possibly the best joint in woodworking, but has not been extensively used because, until now, it has been very difficult to prepare.
The through dovetail is one of the most basic methods of making a joint.  In this process, two wooden pieces are joined together at their ends with a finger-like dovetailing method, which can easily be seen from it's exterior.  It's the most common practice used in everyday projects for joining the corners of frames, boxes, cabinets, and other items.
A half-blind dovetail joint permits the woodworker to hide the joint from the front. In this process, the joints are kept in sockets in the ends of the workpiece, which is normally at the front of the product so that their ends cannot be seen. These joints are commonly used to fasten drawer fronts to their sides.
The secret mitered dovetail joint is used in the luxury class of drawers, cabinets, and box work. It offers the strength found in the respective joint but is hidden from both the outside and inside corners by creating the outer edge to meet at a 45-degree angle while hiding the dovetails internally within the joint.
How to Use a Dovetail Marker
Cutting dovetail joints is an advanced process that not everyone can master. These special joints are strong and long-lasting. If you are a skilled professional or love wood crafts, then a dovetail marker can make your job easier and more fun.
It gives you the freedom to cut with precision and accuracy. This amazing woodcutting guide is a unique tool that allows you to create wonderful dovetail joints for boxes, chests, drawers, or other woodworking projects.
How to Make a Dovetail Jig
EASY Router Table Dovetails That LOOK HAND CUT, with a simple jig!
Table Saw Dovetail Jig
Best Dovetail Jigs
Porter Cable 4216 Jig
The Porter-Cable 4216 Super Dovetail Jig (4215 with Mini Template Kit) is a jig capable of making fancy joints for every wood project that the user has to accomplish. The jig has a durable and single steel base design, which ensures its versatility and lasts for a long time. It is capable of boring holes through wooded blocks that are a fourth to an eighth of an inch thick.
On top of that, the heavy-duty clamps complete with sandpaper backed locking bars also provides the device with a firm and steady grip of the wood. The Porter-Cable 4216 Super Dovetail Jig is equipped with different templates that one can use in various projects. This jig also has a couple of templates and a wrench. Upon purchase, the Porter-Cable jig comes with two nuts and the instruction manual for the user. The router bit depth gauge can set the bit depths for every woodwork without measuring it, and this can help save a lot of time, especially for rushed projects.
Easy set up with the template alignment lines
Single steel base design
12-month warranty
Weight: 37 pounds
Template for half-blind, rabbeted, and sliding dovetails
Porter 4212 Jig
The Porter-Cable Dovetail Jig 4212 is made tough with a steel base and equipped with CNC machined templates that are built by aluminum. Using this Porter-Cable dovetail jig, you will be able to rely on durable construction, which will last long.
Weight: 42 pounds, Length: 22.87 inches, Width: 12.37 inches, Height: 11.37 inches
One year warranty, three years limited warranty
User manual and guide
2 carbide-tipped bits, 2 nuts, 2 template guides
Porter Cable 4210 Jig
The Porter-Cable 4210 12-Inch Dovetail Jig is woodwork equipment that has templates for half-blind, rabbeted half-blind, as well as for dovetails. The Porter-Cable 4210 12-Inch Dovetail Jig is capable of boring holes through 1/8 inch to ¼ inch thick.
Weight: 22 Pounds, Width: 12.37 inches, Length: 22.87 inches, Height: 11.37 inches
Template for half-blind, rabbeted half-blind, and dovetails
Router bit depth gauges and template alignment lines
User-friendly features
CNC-machined aluminum templates
MLCS Dovetail 6410
"The MLCS Dovetail Jig 6410 is a jig that enables the user to cut wooden supplies precisely and in different ways. This jig is capable of making half-blind, rabbeted half-blind, and dovetail joints".
Simple to use with accurate cuts
Carbide Dovetail tip
Self-spacing edges, steel template, precise alignment
You can cut wood in varied angles
User manual included24-inch capacity for thick woods and drawers and boxes
Keller Dovetail 135-1500
"The Keller Dovetail Jig System 135-1500 is a device capable of cutting wood and boring holes through wooden blocks. It is equipped with a 15-inch precision-milled template that enables the user to create wood projects in an accurate and fast way."
All templates are made for precision cutting
Can accommodate woodblock from 1/8 to ¾ inches thick
Back to back device
Classic cut, acute, obtuse, curved dovetails, compound-angled, variable spaced, and knuckle joints possible
Illustrated user guide included