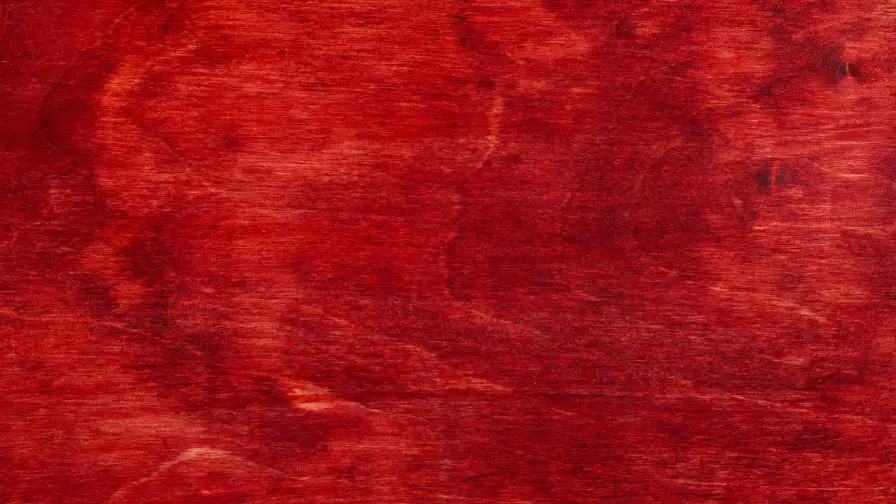 Are you looking for a natural maroon color wood to use in your next project? There are a few wood species that can naturally look maroon in color but you can also stain wood with a maroon color stain to achieve this look as well.
In this article we will look at the various Maroon color wood species and ways to achieve this look through staining.
What is Maroon Wood?
Maroon wood is a type of wood that naturally appears dark reddish brown similar to maroon in color. Typically found the heartwood section this is only found in a few tree species. You can also create maroon wood for your project by using dyes or stains.
This type of wood is commonly used in turned items made on a lathe, utensils, instruments and furniture.
The Different Types of Maroon Wood
There are only a few different types of naturally occurring maroon color wood species. The closest you will find are Redheart and Bloodwood species.
Redheart wood is a beautiful, rosy hue that ranges from a light pink to a deep maroon. This type of wood is very dense and heavy, making it ideal for furniture-making and other construction projects.
Bloodwood, on the other hand, is a dark crimson color with hints of brown. It is also a very dense wood, but not as heavy as Redheart. Bloodwood is often used in fine woodworking and cabinetry.
Both are grown from Central America to South America and are moderately high in price for materials.
So, if you're looking for a maroon colored wood for your next project, be sure to check out these two species!
How to Stain Wood to Achieve a Maroon Color
Stain or wood dye is commonly used to turn your wood maroon. Exterior waterproof maroon stain is used for decking, fences, and siding. Interior water based dye stains can be used for furniture, trim and cabinetry.
Here are the stains to follow when staining wood:
-Pick a day where the humidity is low and there is little wind.
-Make sure to sand your wood before staining.
-Apply the stain with a brush or cloth, working in the direction of the grain.
-Wipe off any excess stain with a clean rag.
-Let the stain dry completely before applying a topcoat or sealer.
General Finishes Water Based Dye, 1 Quart, Merlot
Click Here To Check The Price On Amazon
BEHR 1 Gal. Redwood Premium Transparent Deck, Fence & Siding Weatherproofing Wood Finish
Click Here To Check The Price On Amazon
Examples of Projects that Used Maroon Wood
Here are some examples of projects that can use maroon wood:
A bookshelf in a library or study
The frame of a door or window
Cabinetry in a kitchen or bathroom
Flooring in a living room or bedroom
A staircase leading up to a front door
Decking, fencing and siding
Turned projects
Veneers
Knife handles
Guitars
Carvings
Recommended Posts: