Super Bowl Jokes
Blonde At The Super Bowl
A guy took his blonde girlfriend to the Super Bowl game. They had great seats right behind their teams bench.
After the game he asked her how she liked it. "Oh I really liked it!" she replied, "especially the tight pants and all the big muscles, but I couldn't understand why they were killing each other over 25 cents."
Dumbfounded, her boyfriend asked, "What do you mean?"
"Well, they flipped a coin, one team got it and then for the rest of the game, all they kept screaming was…'Get the quarter back! Get the quarter back! I'm like……….hellooooooooo! It's only 25 cents!"
---
A friend of mine has two tickets for the Super bowl. He didn't realize when he bought them that this is the same day as his wedding – so he can't go.
If you're interested,.. the church is in New York City and the bride's name is Donna.
Click here for more woodworking jokes.
Super Bowl Meme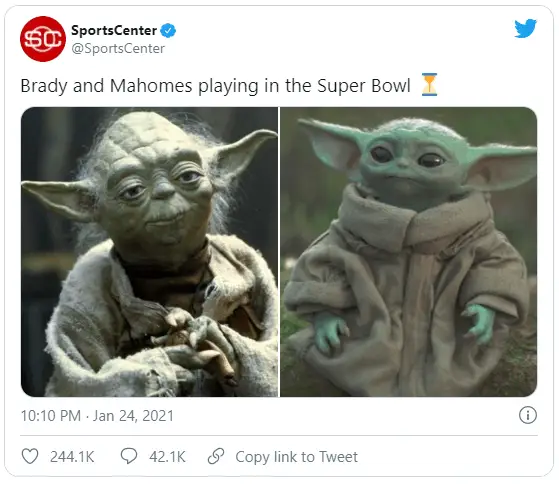 Click here for more woodworking memes.
Lombardi Trophy Replica Build
Sometimes two obsessions converge and you end up with something beautiful. That happened for me when my lifelong love for woodworking and football collided as I took on the challenge to make the iconic form that is the Lombardi Trophy.
Wood Turned Football – NFL 2×4 Wood Turning Project
Steve made this Wooden Football from a standard 8-foot 2×4! It's NFL regulation size and he even had enough 2×4 leftover to make a display stand!
Beads of Courage Football Box
Tim turns a Football lidded box for the Beads of Courage program. The project includes creating a turning blank from board stock, hollowing, carving and drilling. The final touch is the addition of leather laces to bring the football to life.
Wood Turning A Football
I have wood turned a football. I had thought the project would just be about the shape, but I found that with the seams in the pigskin and stitching on the ball there was quite a bit of inlaid work to be done. This would make a nice opportunity for a wood turned segmented football. I made the body of the ball out of some cherry wood that I cut up years ago. The seams of the ball are padauk and the big stitches of the ball are holly wood that I got from a neighbor last spring. I built the main body of the ball from rings made from the cherry. Once the form of the ball was made, I use the CNC router to cut the inlay work in the ball and the parts themselves. Then I wood turned everything flush. I shaped the points at the ends of the ball on the disk sender and then with the hand sander. I finished the ball with walnut oil.