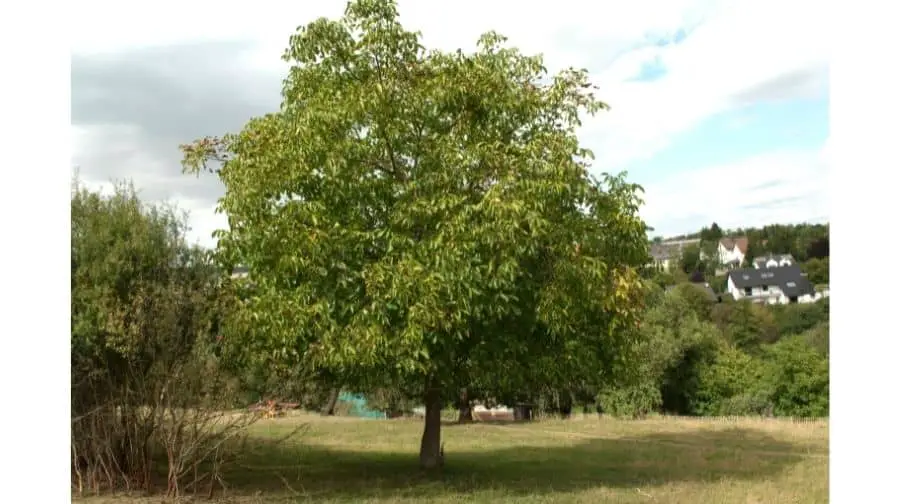 Walnut trees are also known as Juglans because it's one of the tree species in the plant genus Juglans. Furthermore, it has almost 21 different types, and famous ones include English Walnut, Japanese Walnut, butternut, little walnut, California black walnut, and Andean walnut. It grows in different climates but commonly grows in deep, drained, and fertile soil. Most walnut trees can't withstand icy areas and usually like summer weather. However, some walnut trees also grow in cold areas.
Furthermore, some walnut trees are not harsh, but most of their types are extremely toxic. That's why no one grows vegetables around them. Since its seeds are brain-shaped, Europeans used to call it Karyon or skull. Its seeds are high in oil, and the tree contains an excess amount of minerals and vitamins. Its leaves are highly used for decreasing glucose levels after harvesting and processing. It might be unbelievable for you, but a walnut tree can live up to 250 years.
What Does a Walnut Tree Look Like?
When recognizing the walnut tree, see its long leaves and large size. Its long bark is dark brown and looks smooth when it's young. However, over time, it becomes rough and dented. When it gets broken, its wood looks dark brown or chocolate in color that's later processed for timber. Also, its feather-like leaves are notched at the edges. The walnut tree is known for its fruits, largely produced canopy, and brain-shaped seeds.
Walnut Wood Color
Now that you're able to recognize walnut trees, it's time to get ready for walnut wood as well because you would be dealing with processed walnut trees in the form of wood. As discussed earlier, its wood features dark brown or chocolate color, but this color is at the center of the tree. However, it can also have reddish, lighter brown, grey, and purple color in some other parts of the tree. Mainly, it's in coffee color, which is incredibly easy to recognize.
Our Ultimate Guide To WALNUT LUMBER – How to Buy, Use & Finish It
Subscribe to Woodworkers Source on Youtube
Walnut Wood Grain Pattern
Usually, walnut wood is straight-grained, but sometimes it can be curled as well, enhancing the grace of the material. Thus, we can conclude that it can be straight and fine but may also contain irregular patterns in some cases. Its highly-figured patterns, sometimes also referred to as burls, originate from knots in the walnut. These highly-figured patterns are priced comparatively more than a regular one. When compared with other wood patterns, it falls between the uniform texture of maple and prominent oak.
Walnut Wood Price
Walnut wood doesn't come in large sizes because of several knots and is expensive compared to other hardwoods. Therefore, when sold for lumber, it costs even more than usual. Since the hardwood is sold per board foot, it may cost from $2 to $38 per board foot, depending upon the quality and grain pattern.
Walnut Wood Odor
Walnut wood smells earthy, nutty, pine, and like citrus. However, it tastes good, and if you rub its leaves on your hand, it smells like furniture polish. When compared with Eucalyptus wood, it smells a lot better. If the piece you get smells bad, there's no need to worry about it. You can add one part of vinegar to four parts of water and spray the mixture on a piece of cloth. Then you can rub the dipped cloth on the wood to prevent the smell. However, there's a smell of vinegar itself, but it smells a lot better than the wood you're rubbing.
Walnut Wood Rot Resistance
Walnut wood has its perfect uses in outdoor purposes, such as woods, railings, doors, and many more. The reason why it's used for outdoor purposes is its resistance to extremely harsh weather conditions and protection against direct sunlight.
However, it may not withstand the insects' attack, and you've to protect it from these attacks using sprays. In addition, it might never defend itself against insects like powder-post beetles. Still, the wood is overall highly durable and perfectly resists rot, decay, and twist, making the material last longer than you expect. For outside use, it may change as the moisture changes but is worth the purchase for outdoor use.
Beginners Guide To Wood Species – What To Expect With Walnut
Subscribe to Mean's Woodshop on Youtube
Walnut Wood Sustainability
Since the walnut represents about 5% of the natural forest wood, we can say it does love the sun and thrives in open-grown sites. When it comes to its black walnut wood type, it does sustain. Also, its species is not listed in the IUCN Red List of Threatened Species or the CITES Appendices. You might find it hard to look for the walnut wood in the forests as the US mostly cut it from all the forests in the states due to its value. Its many other species are available that are locally sourced and certified sustainable.
Walnut Wood Uses
Besides using walnut wood for small wooden objects and novelties, it's widely used for turned items, veneers, gunstocks, interior paneling, cabinetry, and furniture. In its lighter form, walnut wood is also a widely used market material in conjunction.
Further looking for its uses, you can see the walnut wood in marquetry inlays, checkerboards, butcher block tops, and chess. If we talk about some of its types, black walnut wood is durable and mostly used in furniture, flooring, millwork, cabinets, and decorative interior materials—also, dining room tables, desks, bookcases, bedroom furniture, and many more.
Characteristics of Walnut Wood
Hard and Stable
Attractive and Elegant
Durable
Easy to Turn and Carve
Glues and Nails Well
Rare and Unique
Rot and Decay Resistant
Good Bending Qualities and Finishes Well
Features Straight Grain
Walnut Wood: What Makes it Great for Furniture?
Subscribe to DutchCrafters Amish Furniture on Youtube
Is Walnut A Good Furniture Wood?
Walnut wood is often used for executive office furniture and formal furniture, making it exceptional for furniture wood. However, you can't use it for long-form furniture because it doesn't come in large sizes. Since this wood is often finished in a natural or dark stain, it complements the dark shades while warming up the entire place in furniture. The wood offers a smooth finish and is known as the best wood in the hardwood category, making it perfect for protective and durable furniture, such as bedroom furniture, cabinets, dining room tables, and many more.
Is Walnut Wood Expensive?
As discussed earlier, walnut wood never comes in large sizes due to the knots. That's why it becomes rare, and some other restrictions make its availability less than other hardwoods. In that case, it's relatively expensive and costs more than many similar kinds of wood. Its price starts from $2 per board foot and goes up to $38 per board foot, making it a lot more expensive. Still, the wood is worth purchasing because it looks stunning, gives a gorgeous shape to any material, and lasts longer. For exterior use, it's the best choice as it resists rot, direct sunlight, rain, and other factors except for some insects' attacks.
What is Walnut Wood Good for?
Since the walnut wood is stable, hard, durable, and not heavy at the same time, its use increases to a wide range, making it good for exterior and interior decoration. For interior furniture, it's a great choice for furniture, dining room tables, bookcases, desks, bedroom furniture, decorative pieces, and cabinets. As the wood is durable and highly resistant to hard outside conditions, such as rotting, sunlight, rain, it can be used as doors, fences, decks, and railings. In addition, it is resistant to decay, easy to work for turning and carving, making it exceptional for carving.
Is Walnut a Hard or Softwood?
There's a misconception about hardwood and softwood difference — one may think that softwood is not strong and hard enough to withstand rough conditions, such as twist, decay, and rot. At the same time, hardwood is extremely strong and can be used for rough use while protecting the material against sunlight, insects' attacks, rotting, and twisting. This is not true at all.
Instead, hardwood means the wood that came from the dicot tree, and softwood is the type of wood that came from gymnosperm trees, such as conifers. When these are the conditions, walnut is hardwood, and some other hardwoods include oak, maple, and cherry. On the other hand, common softwoods include cedar, fir, and pine.
Where Can I Find Walnut Wood?
There are thousands of online stores that supply walnut wood worldwide. You can easily find the best supplier around you, but before buying the walnut wood, make sure it's the original walnut wood and research the wood price. Make sure you identify the walnut wood, or you might end up buying the alternative cheaper wood.
In case you get the walnut furniture, trust a reliable supplier backed up by years of warranty, authenticity, and work by highly skilled woodworkers. The best way to judge the online store is to check out their feedback, reviews, and testimonials. Also, don't end up buying at a higher cost; for that, check the rates first.
How to Build A Walnut Dining Table 
Subscribe to BYOT on Youtube
Is Walnut Better than Oak?
When we talk about durability and strength to withstand wear and tear, outside hard weather conditions, and routine, Oak is rated 1360 on the Janka Hardness Scale, while Walnut is rated 1010 on the same scale. It means oak is comparatively durable and can withstand rough conditions. On the same scale, red oak and white oak rates higher than walnut, making the oak better in other types as well. However, it looks a lot better than oak in terms of sleek and straight-cut design when crafted for furniture. Also, it's more expensive than the oak, which shows its value except for the fact that walnut is relatively softer than oak but a lot harder than pine.
Is Walnut Wood Toxic to Humans?
We have already discussed in the start that since its roots are extremely toxic, you can never grow fruits and vegetable plants around these trees. Actually, its leaves, roots, and fruits contain a chemical called juglone that never lets other plants grow around it. When it comes to humans, the same juglone chemical can poison, and that's why it's labeled as toxic wood. However, these are safe for all livestock except horses.
What's more important to remember for a woodworker, DIYer, or carpenter, is that its dust contains the same toxic substance that can cause problems to an allergic person having asthma or allergic to pollen. Therefore, we highly recommend wearing safety tools while working on walnut wood.
Is there a Difference Between Walnut and Black Walnut Wood?
There's not much difference between walnut and black walnut wood. Instead, black walnut wood is just another type of walnut among many other types including, Andean Walnut, Brazilian walnut, English walnut, and many more. Yes, it's relatively darker in color, and that's why it is instead called black walnut wood. Black walnut wood is native to North America and is often used for woodworking. Its trees are taller, thicker, rich in color, and have uniform grown patterns. That's another noticeable difference from regular walnut wood.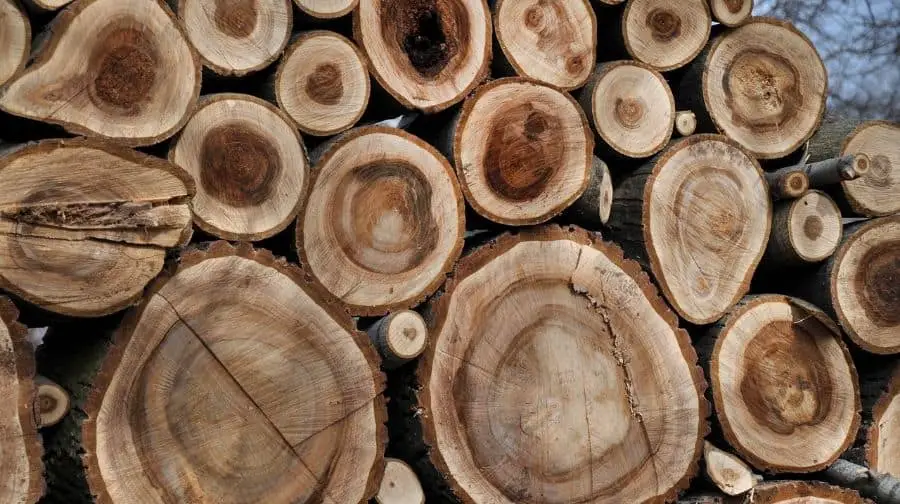 Is Black Walnut Expensive?
Black walnut is comparatively more expensive than most hardwoods because of many reasons. First, it's rare, and the availability is limited. Second, even if you somehow manage to get the black walnut wood, it doesn't come largely in size due to the knots in its tree. Third, the wood features exceptional features, including being stable and hard, dense with good shock resistance, good bending qualities, nails and glues well, finishes well, displays unique colors, resistance to decay, and much more, making it a lot more expensive than most woods. Its minimum price starts at $5 per board foot and goes up to $38 per board foot and more.
Finishing Walnut: 2 Steps to a Gorgeous Dark Brown Wood Finish
Subscribe to Woodworkers Source on Youtube
Is Walnut Better than Mahogany?
Both mahogany and walnut are great in their own way, and while deciding between these two kinds of wood, you might have a tough time. However, their qualities, features, and looks differ a lot in many cases, making it easy for you to make a final decision based on your requirement and the desired look for material. Walnut is known for being expensive, but when compared with mahogany, it's relatively cheaper. Walnut is more modern and understated, while mahogany is antique and classic in look. Also, walnut might be softer than oak, but it's a lot harder than mahogany. These three factors can easily help you decide while choosing walnut or mahogany.
Is Walnut a Heavy Wood?
Walnut wood is lighter than many kinds of wood, but itself, it's relatively heavy. It has 12% moisture content and weighs about 38 pounds per cubic foot, making it slightly heavier and still lightweight than many kinds of wood. This weight per cubic foot also indicates that it's a hardwood that can resist tough conditions and last longer than your expectations. However, it carves and mills easily using regular woodworking tools without giving a tough time to the woodworkers, carpenters, or DIYers. If we talk about its type, black walnut wood, it's much tight-grained, denser, and dark, which gives a smooth finish while polishing.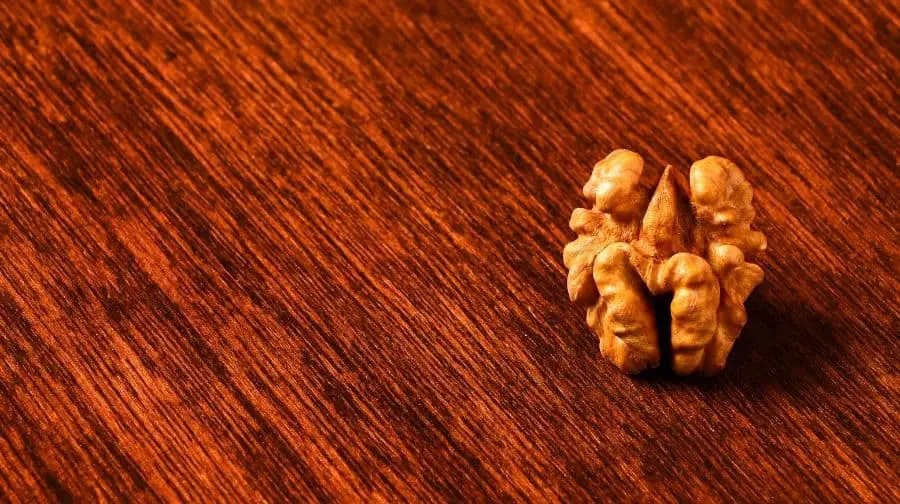 Is Black Walnut Wood Hard?
When measured on the Janka Scale, the measuring scale of the wood harness had a rating of 1010, which is considered relatively hardwood. Still, it's a lot softer than oak but a lot harder than pine. If we talk about its species, black walnut wood is hardwood from North America. Furthermore, black walnut is dark, tight-grained, and denser than other walnut wood types, making it relatively heavier than similar woods in the same category. However, it polishes to a smooth finish, and color ranges from creamy white to dark chocolate black. It's harder than cherry as well.
Is Walnut Wood Rot Resistant?
Walnut wood is a lot harder than many kinds of wood, making it resistant and lasts longer than you expect. That's why its outdoor use is widely increased because of its strength. Yes, it does resist rot, and at the same time, it resists decay, twist, sunlight, rain, and other hard weather conditions. However, some insect' attacks like powder-post beetles might find it easy to affect it. Otherwise, the wood is transformed to last longer while sustaining the original look and color. That's why you can use it for railings, outside doors, garden furniture, and more.
What's the Difference Between Black Walnut Wood & Walnut Wood?
Subscribe to Really Cheap Floors Podcast Clips on Youtube
Does Home Depot Sell Walnut Wood?
Home Depot does sell walnut wood in the form of boards, planks, and panels. Also, you can have lumber and composites to get the desired look after shaping the wood in any form, including indoor furniture, decorative pieces, bedroom furniture, dining room tables, and many more. Also, you can make outdoor furniture, doors, and railings. Home Depot can offer you authentic walnut wood at relatively lower prices than other online stores. Also, it's a great platform to get many types of wood in bulk at a lower cost.
Is Walnut Cheaper than Oak?
Since only 1% of all US hardwood growing stock is walnut, it's considered rare and not easily available. At the same time, oak is widely available in any form you need, but wood walnut doesn't come in extra-large sizes. So, here, it plays the availability factor or high demand and less production, making walnuts more expensive than oak. Otherwise, oak is harder than a walnut and features tons of benefits that could make it more expensive than a walnut. But the case is totally different, and walnut is not cheaper than oak.
Is Walnut a Good Choice for Flooring?
Since the walnut is relatively harder than many kinds of wood and softer than a few, along with a wide range of colors from light sapwood to brown heartwood, it's an excellent choice for flooring. Also, it's the softer species of hardwood flooring, it tends to hide dents, and natural tones are so ordinary. It might be too soft for flooring purposes, but it's a great look ready to give an impressive appeal to your home's floor. Along with a better look, with its ability to hide dents and cracks, walnut wood can be a great choice for flooring. It's dense, strong, durable, and has excellent dimensional stability, pointing to more reasons for flooring.
What is the Best Oil for Walnut Wood?
Oil is necessary to preserve the beauty of wood but finding the best one that comes at an affordable price is quite hard. That's why we came across some of the best oils for walnut wood that you can consider if you own walnut wood to preserve a better look and for increased durability. Let's see what's in it for your walnut wood.
Watco Danish Oil for Walnut Wood is ideal for indoor furniture, keeping the original shape except for the floor. Its oil-based formula deeply penetrates into the pores of wood for ultimate protection. The oil covers more area and takes about 6 hours to dry, which is less than most oils. It is incredibly easy to apply and provides protection against spills, scratches, peels, and more. While enhancing the natural look and feel of the wood, it creates a rich, warm and glow of walnut wood.
Why is Black Walnut Poisonous?
Just to recall your knowledge, black walnuts are extremely toxic for plants, and that's why fruits and vegetables are not grown near black walnut trees. At the same time, it's also poisonous for humans and can lead to serious health conditions. However, it's safe for all the livestock except the horse. The real cause of poison is the chemical called juglone present in its roots, leaves, and fruits. Since the poison is majorly in the roots, even if you remove the tree from the ground, its poison remains in the soil for years. That's why neutralizing the poison of black walnut from its root is near to impossible. It means chopping off won't do the job either.
Facts About Walnut Wood
Walnut wood is an excellent choice for steam bending and is widely used in musical instruments, such as guitar and violin. What's interesting about walnut wood is that it changes color over time, unlike many hardwoods. It changes its color to lighter over time and may become a rich honey color as well. It might be toxic for some plants and humans, but overall, walnut wood is eco-friendly.
Subscribe to WWBeds Custom Furniture on Youtube
Recommended Posts: