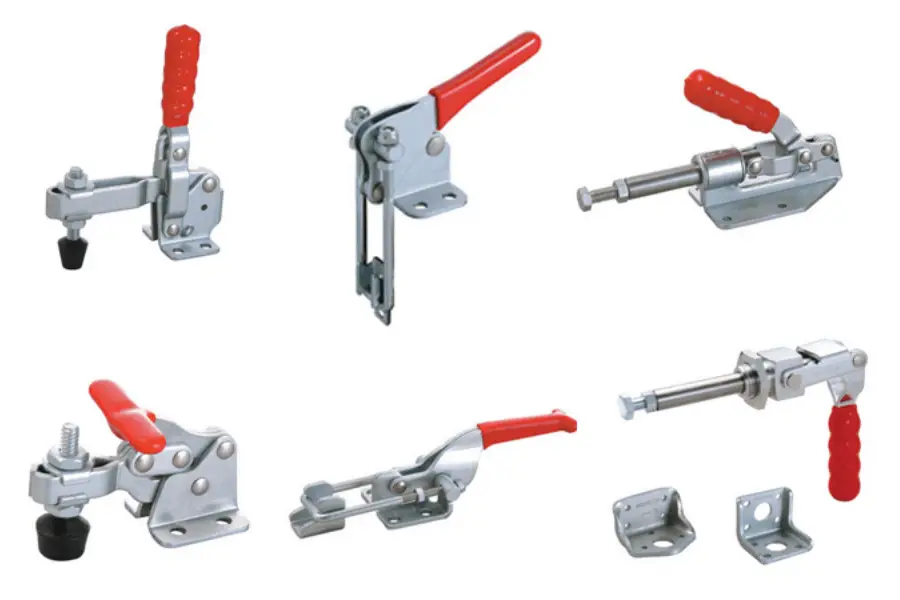 The toggle clamp is a simple mechanism that holds your workpiece instantly; using a lever to push a plate firmly into position to secure it stationary.
There are so many helpful options when it comes to clamps for your project. Each clamp has a specific purpose and function that separates it from the others. I've researched through the internet and put together a quick summary on toggle clamps.
What is a toggle clamp? A Toggle Clamp is a quick action clamping device typically screwed into a base that uses a lever and plate mechanism to push the plate downward or forward to secure your material stationary.  They are commonly used for woodworking jigs, work benches, welding, drilling, bonding, sealing, coping, cutting and routing.
Keep reading below to learn more about the toggle clamp and what it can be used for.
What Is A Toggle Clamp?
A toggle clamp is a device that you use to safely fasten a workpiece in position, usually, yet not only, as part of a jig when cutting or routing. Known to be the quick-action hold-down device, a toggle clamp is utilized to keep a workpiece fixed and stationary.
This allows you to work without being worried by the frequent movement of a piece of wood. The toggle clamp is an essential hand tool because of its safety and precision. They don't usually get the same attention as their larger two-jawed cousins, because their applications are more specialized.
The toggle clamp is a simple mechanism that holds instantly. It consists of a handle to operate, a clamping arm to reach the workpiece, linkages for multiplying the applied force and a single clamping plate that is designed to hold a workpiece down on a work surface, such as a benchtop.
The handle is operated which moves the clamping arm to hold the workpiece. A required clamping force is achieved and exerted on the workpiece. Under this action, the toggle clamp holds the workpiece firmly. The fact that the clamp only has one clamping plate means it is used in conjunction with the surface of the workbench to hold a workpiece securely.
The plate of the clamp pushes on the workpiece, holding it steady between the plate and the work surface. The clamp uses a fast-action mechanism, meaning it can be engaged or released in one quick movement. It is also equipped with a unique pivot and lever system, ensuring a maximum function and excellent performance. This enables the toggle clamp to hold down a piece according to your comfort. Not only that, but it also squeezes, pushes, and pulls wood in a way that reaches your requirement.
There are different types of toggle clamps available such as:
Horizontal Toggle Clamp
Vertical Toggle Clamp
Push-Pull Toggle Clamp
Pull-Action Latching Toggle
What Is A Toggle Clamp Used For?
Toggle clamps are utilized for various applications. In the metal industries, they can be used for grinding, boring, welding, automation and assembly lines. Within industries working with wood, plastics and composites, toggle clamps are often used in shaping, adhesives, milling, drilling and assembly lines.
In more specific terms, it can be used to clamp different objects together (such as pieces of wood and molds), for the positioning of machine tools, for bonding and sealing projects, for coping with narrow rails, to lock down miter joints, to cut tenons with a table saw, to perform tension-free tapering, in woodworking jigs and latches for container lids and more.
When you want to purchase a toggle clamp, it is often tempting to go with whoever provides the lowest price and because of how large the toggle clamp market is, there will be a lot of choices to select from.
It may be worth paying a little more on a higher quality product from a trustworthy service provider. Therefore, you need to balance out your priorities. You need to have a good strategy and know what you need so you can purchase a toggle clamp that would work best for you.
Toggle clamps are necessary for any woodworking or metalwork project. No matter how hard your task at home or in the office is, it can help you say bye to the hassles. Your experience will be different and it will be full of comfort, effectiveness and profitability.
How Do You Use A Vertical Toggle Clamp?
Toggle clamps are an essential tool for woodworkers, allowing you to quickly and easily clamp pieces of wood together.
Here's a quick guide on how to use toggle clamps:
In order to lock a vertical toggle clamp lift the lever vertically. When the lever is straight up in the air this will clamp down the pressure plate securing your workpiece into position. 
To release the clamp, depress the lever. The pressure plate will retract and you can remove your workpiece.
Toggle clamps are also useful for horizontal clamping. For example, when gluing boards together for a tabletop, you would use horizontal toggle clamps to hold the boards in place while the glue dries.
To use a horizontal toggle clamp, first place the pressure plate on one side of the workpiece. Then, depress the lever and slide the clamp until the pressure plate is on the other side of the workpiece. Release the lever and your workpiece will be secured.
Toggle clamps are an essential tool for woodworkers, allowing you to quickly and easily clamp pieces of wood together. Whether you're working on a vertical or horizontal project, toggle clamps are a great way to secure your workpiece while you work. With a little practice, you'll be using toggle clamps like a pro in no time!
Horizontal VS Vertical Toggle Clamp
When it comes to horizontal vs vertical toggle clamps there are a few things to keep in mind.
The first is that horizontal toggle clamps are going to be more expensive. The reason for this is because they require more parts and they're not as common. Vertical toggle clamps are less expensive and more commonly used so you'll have an easier time finding them. However, horizontal toggle clamps can offer a lot of advantages.
Another advantage is that horizontal toggle clamps can provide more holding power. This is because they have more leverage than vertical toggle clamps. Also horizontal toggle clamps are easier to use in tight spaces. This is because you don't have to worry about the handle hitting something and causing damage.
So, when it comes to choosing between horizontal vs vertical toggle clamps, it really depends on your needs. If you need more holding power or if you'll be using the clamp in a tight space, then a horizontal toggle clamp is the way to go. If you're looking for a less expensive option or one that's more commonly available, then a vertical toggle clamp is the better choice. Whichever you choose, make sure you get one that's made from high-quality materials so it will last for years to come.
How To Use Toggle Clamps With A Jig For Cutting And Routing.
Subscribe to WoodWorkers Guild Of America on Youtube