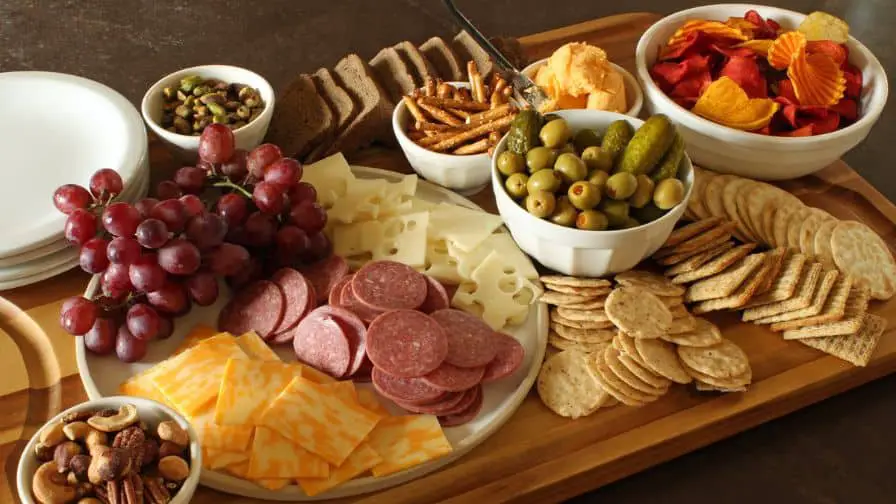 Looking to create the perfect charcuterie board? Look no further!
In this blog post, we will provide you with everything you need to know to create the perfect cedar charcuterie board. From selecting the right ingredients to choosing the suitable wood, we have you covered. So what are you waiting for? Get started today!
What Is A Charcuterie Board?
A charcuterie board is a beautiful and delicious way to serve an array of meats, cheeses, crackers, bread, pickles, fruits, and nuts. It's a great centerpiece for any gathering or meal. Charcuterie boards are often thought of as the perfect appetizer because they offer so much variety and flavor. But they can also make an impressive main course.
Subscribe to Jon Carlson Creations
Can You Make A Charcuterie Board Out Of Cedar?
Yes. Cedar has natural antibacterial and antifungal properties. It can also handle moisture better than other types of wood, so it won't warp or splinter over time. Plus, the warm color of cedar is a great choice for an eye-pleasing charcuterie board.
When making a charcuterie board out of cedar, use a food-safe wood sealer and finish. Also, properly wash and dry the wood before using it. This will ensure that nothing harmful is transferred onto the food.
Choosing the right cedar board for your charcuterie board is key. Look for boards that are free from cracks, knots, and other defects that can trap bacteria. Also, search for boards that have been properly sanded to remove any rough edges before using them.
In terms of maintenance, a light coat of mineral oil every few months will keep the cedar appearing great. This also protects against moisture and food spills that can happen during mealtime.
Making a charcuterie board out of cedar is a splendid choice for anyone looking for an elegant and functional addition to their kitchen. With proper care and maintenance, the board will last for years and become a beautiful part of your kitchen décor. Enjoy!
How Do You Seal A Cedar Charcuterie Board?
When it comes to sealing a cedar charcuterie board, the most important thing you need is a good quality sealer. The best kind of sealer for the cedar is a water-based one and it should apply with a brush or sprayer.
Once you have the sealer, prepare the wood by ensuring that it is completely dry and free of any dirt or debris. Use a damp cloth to clean the board before applying the sealer.
After your charcuterie board is prepared, use a paintbrush to put the sealer evenly. Allow the sealer to dry completely before adding a second coat. This should take about an hour, depending on the temperature and humidity of your environment.
Once you have added two coats of sealer, let it sit for 24 hours before use. This will give it time to fully cure and provide a longer-lasting finish.
Once your charcuterie board is sealed, you will enjoy it for many years! With proper care and maintenance, your cedar charcuterie board can stay beautiful and durable for a lifetime. Happy sealing!
Selecting The Right Ingredients For A Charcuterie Board
The perfect charcuterie board is so much more than a few hunks of meat and some cheese. To get the most flavor and texture out of your creation, curate quality ingredients that will bring all of the classic elements together.
-Start by selecting several types of cured meats such as prosciutto, salami, mortadella, and chorizo. When you are feeling adventurous, try adding soppressata or pancetta for a more robust flavor experience.
-Next up is the cheese selection. Choose cheeses that have a range of flavors from mild to strong. You can add a variety of textures as well by choosing blue cheese, cheddar, brie, and goat cheese.
-To add some crunch to the board, don't forget about nuts. Walnuts and almonds pair nicely with hard cheeses, while cashews and macadamias work better with softer cheese varieties.
-Fruits such as grapes, apples, pears, and cherries are essential to add a bit of sweetness and balance out the other ingredients.
-You can also throw in some pickles, olives, crackers, or sliced bread for extra texture and crunch.
-Finally, finish off your board with condiments such as honeycomb, fig jam, chutney, and mustard.
By selecting the right ingredients for your charcuterie board, you can create a delicious and visually appealing snack that everyone will enjoy! Have fun experimenting with different flavors and textures to produce the perfect board. Good luck! Happy snacking! Cheers!
Subscribe to Natashas Kitchen
Choosing The Right Wood For Your Charcuterie Board
When it comes to constructing a unique and alluring charcuterie board, the wood you prepare can make all the difference. Whether you're looking for something rustic or modern, picking the right type is key.
Here are some tips on how to choose the perfect wood for your charcuterie board:
1. Consider its durability: When browsing for the right type of wood for your charcuterie board, think about how much wear and tear it will expose. Hardwoods such as maple, walnut, and cherry are more resistant to scratches and dents than softer woods like pine or poplar.
2. Think about the tone: The color of the wood can influence the appearance and feel of the board. Walnut and maple have a more traditional, rustic vibe while cherry has a modern and sleek vibe. Consider what tone best fits your charcuterie board vision.
3. Choose sustainable wood: When it comes to sustainability, there are certain types of wood that are better suited than others. Bamboo and even mango wood are both fantastic choices as they are more eco-friendly than traditional hardwoods.
Ultimately, the right type of wood can transform your charcuterie board look and feel luxurious. With these tips, you'll choose the perfect wood for your project in no time! Don't forget to have fun with it and get creative. Happy crafting!
What Are 5 Tips For Making A Charcuterie Board?
1. Choose a variety of meats, cheeses, and other ingredients that pair well together. Consider flavor combinations like salty prosciutto with sweet honey or creamy brie with tart cranberries.
2. Include something crunchy like crackers, pretzels, or nuts for texture.
3. Add fresh fruits and vegetables like grapes, figs, olives, sliced tomatoes, and peppers for a bright pop of color.
4. Display your ingredients in an aesthetically pleasing way by arranging them in circles or stripes to create visual interest.
5. Don't forget to include some jams, honey, chutney, or other spreads for dipping. A few slices of fresh baguette or crostini are also great for layering on unique flavor combinations. Enjoy!
Subscribe to noblechefservices
Tips And Tricks For Presentation And Storage Of Your Charcuterie Board
Once you selected the pieces for your charcuterie board, it's time to think about how to present and store the items. Here are some tips and tricks:
1. Choose a board that is large enough for everything, but not so big that it looks empty. Wooden boards are wonderful for showcasing your charcuterie choices.
2. Arrange the food according to a theme or color scheme, laid out in rows or sections. This will make it easier for guests to find what they are looking for and provide an aesthetically pleasing presentation.
3. When you want the items on the board to stay cold, place a few ice packs underneath the board.
4. To make sure your cheeses and meats stay fresh, wrap them tightly in cling or plastic wrap or store them in airtight containers.
5. Store leftover charcuterie ingredients properly in the refrigerator to ensure that they remain fresh for later use.
6. When you do not have time to assemble the board, you can pre-assemble it and store it in the refrigerator until ready to serve. Take it out an hour before serving so that everything is at room temperature.
7. Since there are leftovers after your charcuterie feast, repurpose them for a delicious snack later on. Make a delicious sandwich or salad with the remaining ingredients and savor the flavor.
These tips and tricks will create a beautiful and tasty charcuterie board that everyone can enjoy! With a little preparation and planning, your charcuterie board will impress.
By following these simple steps, you can indulge in an appetizing and memorable presentation that will please everyone. Happy charcuterie crafting!
Bonus Tip: Use small dishes or ramekins for the accompaniments such as pickles, olives, and dried fruit to keep them from spilling onto the board. This makes it easier to arrange the board and also allows each guest to pick and choose what they want. Enjoy!
Recommended Posts: