A woman walked into the plastic surgeon's office and asked about the price of a nose job.
"Oh," said the doc, "they usually run about $6,000."
"Oh dear," she said. "What can we do to make it cheaper?"
"Well, we can eliminate the anesthetic. That'll reduce it to $4,000, but it'll hurt a lot."
"Hmmmm … anything else?"
"The post-operative pain killers are about $500."
Frustrated, the doc said: "Well, I suppose I could use a spoon instead of surgical instruments."
"… okay. And that would make it?"
"How about $100?"
"Fine," she said. "My husband had a board kick back on the table saw yesterday. I'll have him here at 3."
Click here for more woodworking jokes.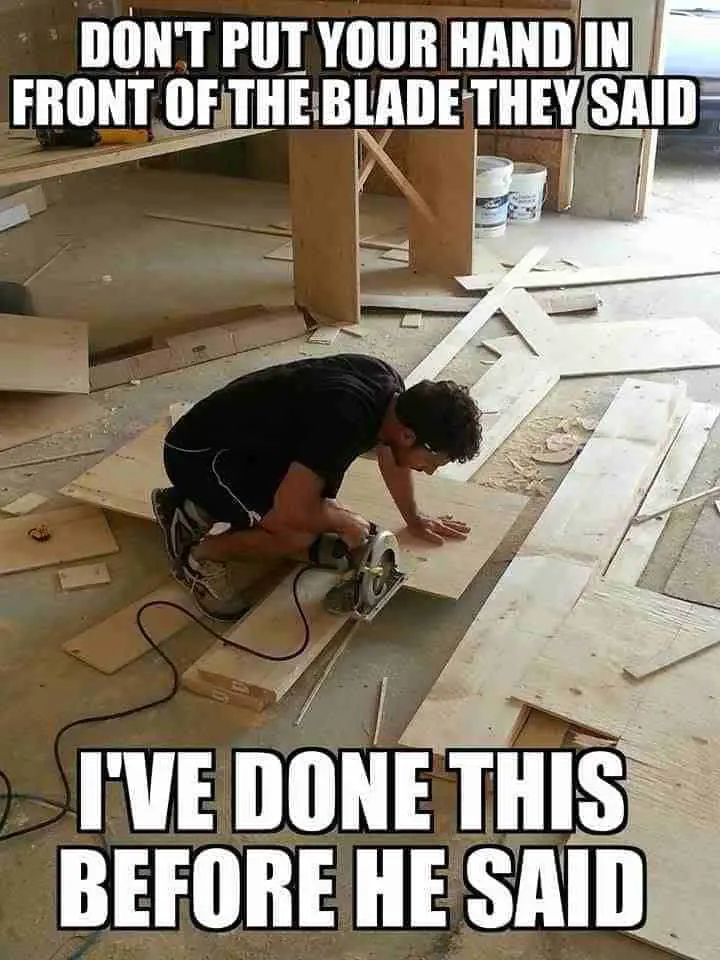 Click here for more woodworking memes.
How We Made A Leprechaun Trap For Saint Patrick's Day
We made a leprechaun trap for Saint Patrick's Day. If you a leprechaun, he will grant you three wishes in exchange for his freedom. You will probably be duped and look like a fool. But if you ask the leprechaun straight up, "Where is your pot of gold?" He is bound by Leprechaun Law to tell you.
Also apparently you have to watch him constantly. If you blink or look away he will disappear. Trixie little fella. This is a fun and simple woodworking project for kids. The top is made of pine and the bars are poplar dowels cut to length. I drilled through the top and bottom to be sure the bars would line up. Painting and decorating the project is a craft all on its own.
Woodturning A Pot O' Gold For St. Patrick's Day
Woodturning African Mahogany and Blackwood into a Pot of Gold!
How To Easily Make A Carved Wood Clover St Patrick's Day Decoration
How to easily make a carved wood clover St. Patrick's Day decoration. This is an easy woodworking craft. Check out this short how-to video for complete step by step instructions. The wood Clover St. Patrick's Day DIY decoration can be either painted or stained and can we self-stand or be hung on the wall.