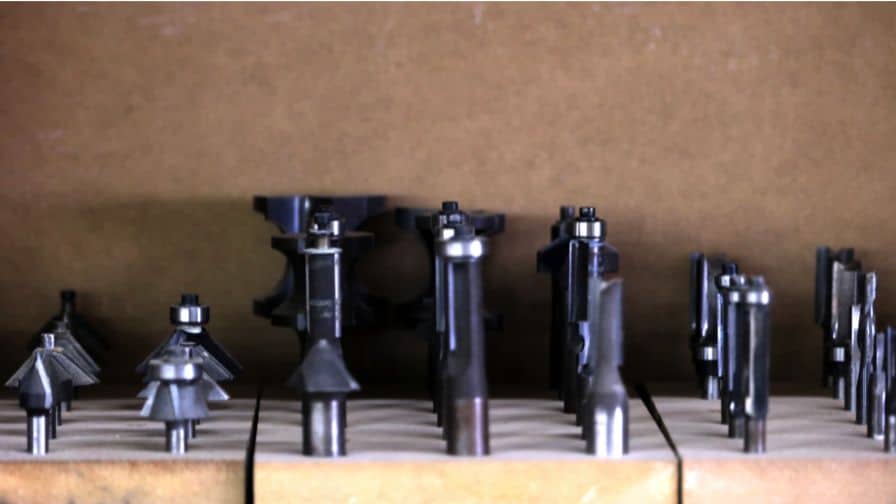 If you need to cut a lot of circles, then you'll need the best wood router bit for the job. There are a few factors you'll need to consider when choosing the right one, such as the size of the circles you need to cut and the type of material you will use.
In this blog post, we will discuss the different types of wood router bits available and help you choose the right one for your needs!
What Is The Best Wood Router Bit For Cutting Circles?
Carbide up-cut spiral bits are the best for cutting circles in wood.
If you're looking for the best wood router bit for cutting circles, there are a few things you'll want to keep in mind.
First, you'll need to decide what size of bit you need. The most common sizes are either ¼-inch or ½-inch. But there are also bits available in other sizes such as ¾-inch and even larger.
The next thing you'll need to consider is the type of wood router bit you need. The most common are straight or spiral. Straight bits are the simplest to use and are suitable for beginners. Spiral bits are more complex but can produce cleaner cuts.
Finally, you'll need to decide on the material you want to use. The most common options are carbide or high-speed steel. Carbide is more expensive but it holds its edge longer and will overheat less. High-speed steel is less expensive but it doesn't last as long and can overheat more easily.
Whiteside Router Bits RU1600 Standard Spiral Bit with Up Cut Solid Carbide 1/8-Inch Cutting Diameter and 1/2-Inch Cutting Length
Click Here To Check The Price On Amazon
What Are The Different Types Of Wood Router Bits Available And What Do They Do?
There are a few types of wood router bits available, each designed for a specific purpose.
The most common type is the straight bit, which is for making clean and straight cuts.
A flush-trim bit is for trimming pieces of wood so that they're flush with one another.
A rabbeting bit is for cutting rabbets, or small grooves, into the edge of a piece of wood.
A dovetail bit that is for cutting dovetails, which are interlocking joints to join two pieces of wood together.
Now that you know the types of wood router bits available, you can decide which one is best for your project!
How To Choose The Right Wood Router Bit For Your Needs
There are a variety of wood router bits on the market. So it's important to choose the right one for your needs.
Here are some things to keep in mind when selecting a wood router bit:
– The type of material you'll be routing.
– The depth of the cut you need to make.
– The size and shape of the workpiece.
– The type of router bit you need (straight, spiral, or flush-trim).
If you're not sure which router bit is right for your project, consult with a knowledgeable salesperson at your local home improvement store. With a little guidance, you can find the perfect wood router bit for your needs.
The Benefits Of Using A Good Quality Wood Router Bit
One of the benefits of using a good quality wood router bit is that it can help you achieve a smoother and more professional finish on your projects. In addition, using a higher-quality router bit can also help to extend the life of your tool.
If you are looking to save money in the long run, invest in a few good quality wood router bits. You won't regret it.
Another benefit of using a quality wood router bit is that it will cause less kickback. This happens when the router stops or changes directions, which can cause serious injury. By investing in a good quality router bit, you can help to avoid this dangerous situation.
How to Cut Circles with a Router and Jig
Subscribe to WoodworkersJournal on YouTube
Rockler Ellipse Router Circle Cutting Jig – Easy to Use Circle Router Jig to Make Picture Frames, Mirrors – Plunge Router Jig Includes Jig Arm, Two Dovetail Keys, and More – Jigsaw Circle Cutting
Click Here To Check The Price On Amazon
Tips For Using A Wood Router Bit Safely And Effectively
Set the depth of your cut. This is done by adjusting the wood router bit itself. Once you have the perfect depth, it's time to start cutting!
The key to making clean cuts with a wood router bit is to take your time. Work slowly and steadily, letting the router do the work.
Finally, always remember to unplug your wood router bit before changing or making any adjustments. This will prevent serious injury!
Can You Cut Circles With A Wood Router?
Yes, you can cut circles with a wood router. It is one of the most versatile tools that a woodworker can use. With the right bit, a router can do everything from cutting perfect circles to shaping ornate moldings.
Here are a few tips on how to get started:
Start by choosing the right bit for the job. For cutting circles, you'll want to use a spiral up-cut bit. This type of bit has a sharp and spiraling cutting edge that helps it bite into the wood and create a clean cut.
Next, mark out the circle that you want to cut on your piece of wood. You can use a compass or trace around a template.
Then, set up your router with the bit installed and adjust the depth of cut. You'll want to make shallow passes at first to avoid overcutting.
Finally, start routing! Guide the router around the perimeter of the circle, applying even pressure as you go. Remember to take your time and work slowly to get a clean cut.
With a little practice, you'll cut circles like a pro in no time! So grab your wood router and give it a try.
Can You Cut A Circle With A Straight Wood Router Bit?
Yes, you can cut a circle with a straight wood router bit. However, it's not as easy as it sounds.
Here's how to do it:
First, you'll need to attach the router bit to the router. Next, mark the center of the circle on the piece of wood. Then, set the router bit to the appropriate depth and width. After that, you'll need to make a starter hole in the wood. Finally, cut the circle around the start hole.
Recommended Posts: