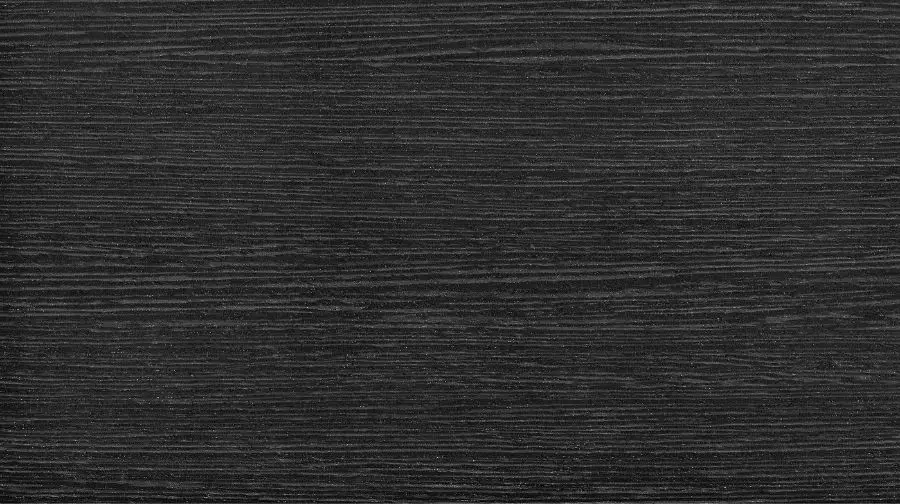 The ebony-wood stain is one of the most traditional colors throughout the countryside for timber barns and cabins. You can easily find this color in people's kitchens, furniture, planters, and garden structures. Most importantly, the stain is pet and plant-friendly, which means licking it by the pets won't hurt them. It's easy to apply, and clean-up is also straightforward using water. Let's talk about the ebony wood first before you go further into the details of the ebony wood stain.
Ebony Wood
Ebony wood is the species of the genus Diospyros, which is a further family of Ebenaceae. Since its color is extremely black, ebony is another word for dark black. Its wide application is due to the beautiful color, high durability, more hardness, and ability to easily take a high polish. The wood is often found in turned articles, knife handles, piano keys, cabinets, and inlaying. What's surprising to know about this wood is that its density is high, which makes it sink into the water.
History
If we talk about its history, we see the wood is found natively in Sri Lanka, Africa, Indonesia, and India. Their trees mature between the age of 60-200 years while growing on lower altitudes and within tropical forests. Woodworkers in Africa make a living from ebony trees. Their demand is because of the dark color, which enhances the ambiance of anyone's house while warming up the place with full grace and brilliant dark color.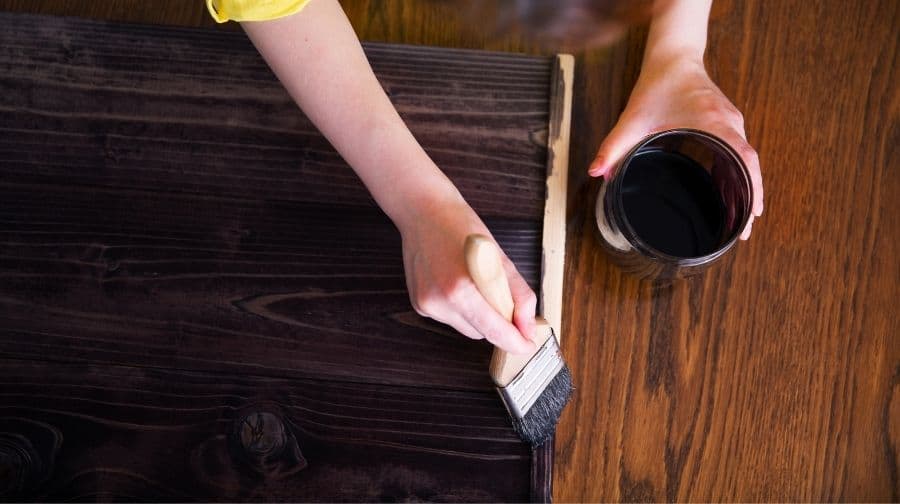 Uses
Pagans consider it a symbol of purity, power, luck, balance, and protection. The symbol of power and protection can be due to its dark color. It is widely used for medical treatments as well. For instance, fever, leprosy, dysentery, and intestinal parasites can be cured with ebony tree wood. Its fruit is known as the Fruit of Gabon and is used to make alcoholic beverages. You can see its use in cloth painting as well because the wood is used as a dark blue pigment.
Furthermore, it's an ideal choice for musical instruments as it provides stability and exceptional tonality, and the clear tone needed for such instruments. Its most common applications include the following:
Violins and violas
Black piano
Harpsichord keys
Guitar
Double bass and cello fingerboards
Since it's dark in color, you can easily find its use in decorative pieces. The most common decorative pieces include:
Chess sets
Door handles
Small decorative pieces
Crucifixes
Butts of pool cues
Knife handles
Benefits
Anemia can be treated with ebony wood.
It's beneficial for those facing diabetes.
You can use its leaves for treating skin conditions like scarring.
You can reduce the damaging effects of pollution with its wood extracts.
It's harvested by locals for its anti-inflammatory and anti-fungal properties.
Best Ways To Ebonize Wood?
Subscribe to The Wood Knight on Youtube
What Color is Ebony Wood Stain?
The ebony-wood stain is from dark grey to deep black color, which makes the color perfect for patio and deck. The dark black color has undertones of olive and brown. That's why its name derives from the dark heartwood of the ebony tree. Since the ebony tree has the darkest color wood, it's known as an ebony wood stain because of the same color found in that tree. It's the darkest color available in the wood stain market. That's why it's the first choice of woodworkers who need dark colors.
Is Ebony Darker than Espresso?
Espresso ranges from light brown to dark brown. Its darkest form can be treated as black color. On the other hand, ebony ranges from dark brown to dark black. It means the darkest form of espresso is the lightest form of ebony. So, we can conclude that espresso is the same as ebony in its darkest form. It means ebony is a lot darker than espresso, and there's no misunderstanding about it whatsoever. Last, since it's the darkest color, it's obviously darker than espresso.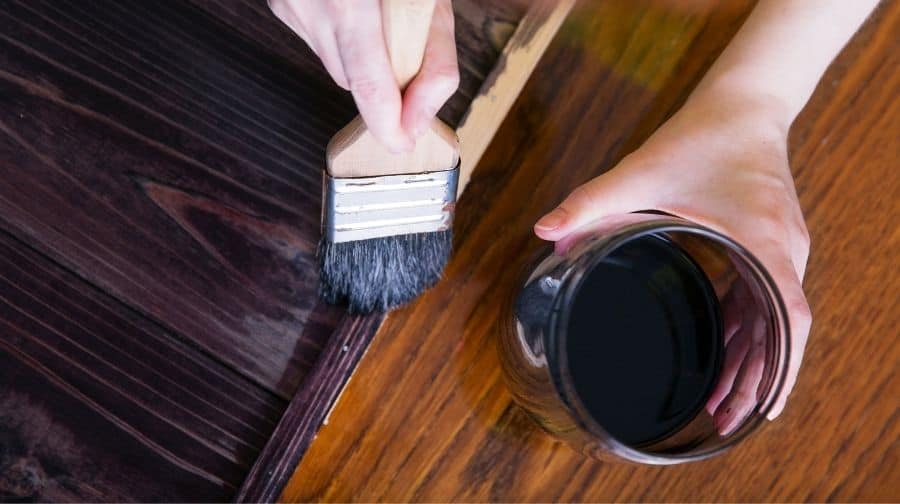 How Do You Stain Ebony Wood?
Staining the ebony wood or wood ebony isn't quite different. However, you have to be a little careful because the color is dense, and you may end up with a lot of blotches. Also, the ebony wood is dark too, which means staining the darkest wood with the darkest stain might be a little tricky than you're expecting. Chances of having more blotchy areas than usual increase. In that case, you have to keep removing the excess stain side by side.
Furthermore, follow these steps to end up with no blotches, waves, or streaks whatsoever:
Start with cleaning the ebony wood.
Get sandpaper of medium grade; it can be 120- or 150-grit.
Start sanding until you get the smooth surface ready for staining.
Try sandpaper of higher grade; this time, try 220-grit.
Fill the pores on the wood surface to ensure you never end up with uneven staining.
Wipe off the surface with a damp cloth to ensure there's no dust or debris, which may affect the efficient staining.
Now apply the ebony wood stain on the deck or any other furniture you have.
Make sure you follow the grain pattern and don't stain in the opposite direction.
Staining in the same direction as a wood grain pattern helps to achieve an even finish.
You might end up with blotchiness. In that case, remove excess by wiping off the surface with a cloth.
Remember; it's entirely up to you to use the soft bristle brush or rag.
You can give double or triple coats depending upon the desired finish you need. Since it's already dark wood, you might not need double coats. Also, the stain is also the darkest color you can ever have; no chance for multiple coats seems here.
Last, don't forget to apply polyurethane sealant. It can be a little addition to the actual cost, but you can consider it an investment as the sealant offers prolonged durability and strength to the stain.
Staining A New Deck With Ebony Wood Stain!!
Subscribe to More Work For Trevor on Youtube
Is Ebony Wood Stain Brown or Black?
Ebony wood color ranges from brown to dark black; the darkness comes with age. But when it comes to the ebony wood stain, it can be either light brown, brown, dark brown, black, or dark black. You will often see this stain in dark black color. When it comes to staining the wood, dark, ebony wood stains are the prior choices. However, the dark grey color also falls in the category of ebony. People consider it for staining the deck because it looks nice on the floors too.
What is the Difference Between Ebony and Black?
When it comes to the noun, black is a color achieved in the absence of light. On the other hand, ebony is a hard dark black wood found in tropical forests. When it comes to the color, ebony includes black too. Besides black, dark grey, to deep black, all colors fall in the ebony category. The intensity of ebony is a lot more than black. Let's dive into some more differences to clearly differentiate both colors.
Black is a neutral black color, but ebony is the deep, dark black color, also including dark grey and dark brown.
Ebony is used for piano keyboards, knives, and other musical instruments, but black has applications in a wide range of products, from decorative pieces to furniture.
Are Ebony and Espresso the Same Color?
Ebony and espresso are entirely different colors, but at some point, they emerge into each other. For instance, espresso is a light brown to dark brown or almost neutral black color. On the other hand, ebony can be dark grey, dark brown, to deep black. At some levels, when the ebony is a dark brown color, it can be espresso too. At this level, we can assume that ebony and espresso are the same color. Generally, we would never say these are two same colors. However, espresso can also be black, which is one of the shades of ebony. It means they can have the same shades.
Staining an Antique Farmhouse Table in Black Ebony Stain & Finishing Oil
Subscribe to I Restore Stuff – Upcycled Furniture & Decor on Youtube
Ebony Wood Stain on Pine
Pine is a cheaper and solid wood, which can be quite easy to stain. When it comes to staining the pine black, the ebony wood stain can be the ideal choice. You may not require much expertise in dealing with staining the wood. However, black stains are known for causing too many blotches and streaks. You have to be a little careful with that one. Otherwise, you're good to go, as pine is an excellent choice to stain it black.
Ebony Wood Stain on Oak
You can stain the oak as darkest as possible because of its clearly visible grain patterns that will be visible in any case. So, it can be a little easy to stain this wood to get the grain pattern. However, it may not be a great option for someone who doesn't want grain patterns. In that case, an oil-based stain is recommended that makes a thick layer to cover the grain patterns. The porous quality of oak easily absorbs the staining materials, which means you might not end up with an uneven finish.
Ebony Wood Stain on Red Oak
Since it's just another type of oak, you can expect the same application as regular oak. However, there are more patterns than the standard oak. The grains are much wider and can be wavy or zigzag in appearance. However, it's sturdier and more durable than the oak. Its pores are comparatively more open than the oak, which means absorption of the staining material also increases. At the end of the process, you might not feel a big difference between staining the oak and red oak.
How To Stain Oak Veneer Doors Staining Internal Oak Doors Ebony Black
Subscribe to Toni Interior on Youtube
Ebony Wood Stain Minwax
Minwax is America's leading brand of wood care and wood finding process. Since 1904, the company has been offering quality products to woodworkers, carpenters, and DIYers at affordable prices. Minwax Wood Finish 227184444 Ebony Stain is their featured product for staining the wood black or ebony. Here's is the list of some key features of this stain:
The stain has the ability to penetrate deep into the wood's pores to give an even finish, which is the dream of every woodworker.
It's a great choice for staining the interior, including cabinets, doors, wood furniture, and more.
Its formulation makes the stains dry quicker and sooner than the regular time required for drying.
The application is quite straightforward; you can use a rag for applying and once you do that, leave the wood for at least 20 minutes.
The ebony-wood stain is dark and rich in color, ready to give a stunning look to your doors, chairs, tables, or more.
Ebony Wood Stain Varathane
Varathane 269395 Premium Fast-Dry Wood Stain is an ideal choice for woodworkers on a low budget and doesn't want to compromise on quality either. The stain is ideal for use on all interior wood projects; doors, cabinets, furniture, trim, and paneling. Its one-coat is enough as the stain features an oil-based formula that never requires another coat, especially when the color is that dark. The tank is large enough to cover up to 275 square feet, only when you don't waste many stains.
Furthermore, its high-performance stain system features nano pigments particles that penetrate deep into the wood while leaving no uneven surface when you're done with the staining. Even in the darkest form, the stain reveals the natural wood's grain patterns to give a stunning look every woodworker dreams about.
Ebony Wood Stain Pen
Minwax 63481000 Wood Finish Stain Marker is an excellent choice for easy and quick touch-ups of scratches and common nicks on the woods. The stain pen is also perfect for small woodworking projects to add decorative touches. It's versatile and can be used for multiple materials, including cabinets, doors, floors, molding, furniture, and other wood surfaces.
Moreover, the stain pen features fast-drying ability, which means in water-based form, it doesn't take more than two hours to fully dry. However, in oil-based form, the drying time can exceed. Since it's oil-based, the drying time can be a little more than water-based but still a lot better than other stain pens in the same category.
Minwax Ebony Stain
Subscribe to Apple Valley Farm on Youtube
Recommended Posts: