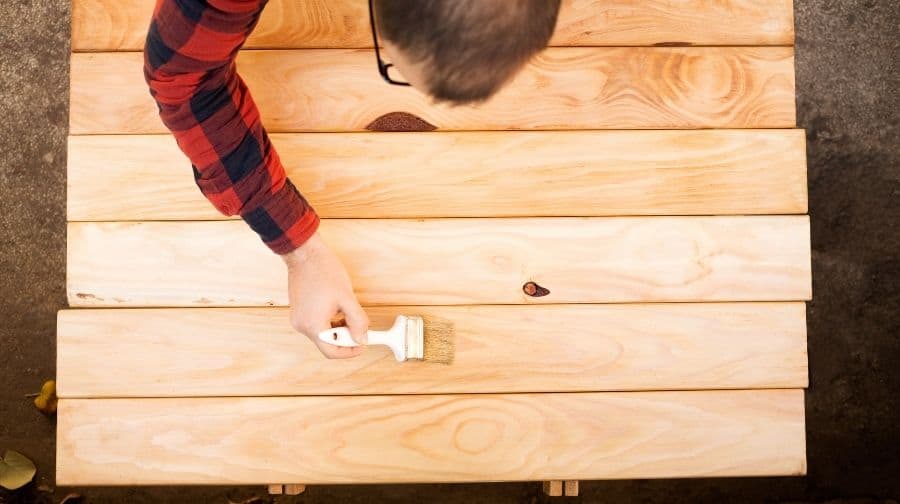 Wood stain is a necessary component that provides the required color to a wooden piece. As a carpenter or a woodworker, it is crucial to know the right technique and some alternatives to a conventional wood stain for emergencies.
If you also want to get your hands into some substitutes of a wood stain without wasting any more time, let's get started.
What Can I Use Instead Of Wood Stain?
Some Other Alternatives Of A Wood Stain
As a woodworker, it is fairly essential to know more than one recipe of wood stain so that you won't face any trouble ever in your life. So, let's have a look at some of the formulae you can work with instead of using a traditional wood stain.
Vinegar+ steel wool/ rusty nail: To make a wood stain with vinegar and steel wool, all you have to do is take one full cup of vinegar. You can choose any type of vinegar, including balsamic, white, Apple cider, etc. Now, take a jar and a steel wool pad or rusty nails. Pour the vinegar into the pot and let it soak for a whole day. Your wood stain is ready for use!
Coffee or tea: Brewed coffee and tea can give a clean wood surface the much-needed shine and color. Take some black tea or coffee and brew four to five times. Now, let it get cold and apply the strong coffee mixture to the wood directly. You can layer it until you get the result you are looking for.
Black walnut husks: You can soak dried walnut crusts into water overnight and use it as a substitute for wood stain. You can get a dark brown to dark green color from the walnut according to your preferences.
Others: You can use onion skin, water-based ink, indigo, etc., as a wood stain instead of a conventional stain.
5 Weird Wood Staining Techniques. Natural Wood Coloring Hacks That Really Work
Subscribe to Steve Ramsey – Woodworking for Mere Mortals on Youtube
What Is A Wood Stain?
In the world of woods and furniture, the wood stain comes to mind in the first place. A stain gives the wooden piece a more polished and sophisticated look. After applying a layer of wood conditioner, wood stain gets applied for finishing the look. It enhances the natural wood color and sometimes changes the color of the wood. Additionally, being the outermost layer of a wooden piece, wood stain protects the piece from environmental changes, disasters, etc.
Sometimes people get bored using particular furniture for a long time. Similarly, when someone shifts to a new home or opts for changing the home's overall look, they also need to change the furniture. But, instead of changing the furniture, it would be cheaper and better to add a new wood stain on top for giving your furniture a brand new look.
These, in short, were some alternatives you can use instead of a wood stain. All these ingredients are natural; hence, it is not possible to get a finish like a real wood stain. But, if you use a wood conditioner and go through the proper technique, you can certainly attain an optimistic result.
DIY Natural Wood Stains
Subscribe to Cottage Life on Youtube
Recommended Posts: