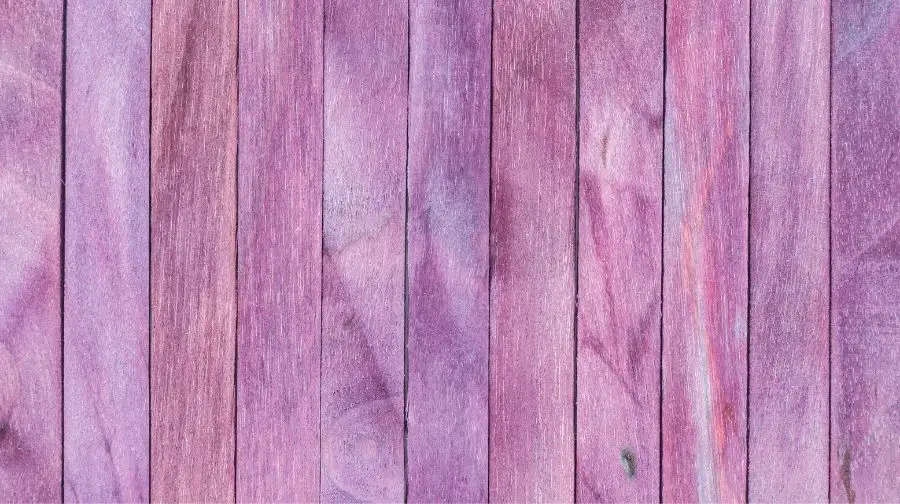 Peltogyne is commonly known for purpleheart or violet wood. It has many more local names, and it's the species of flowering plants in the Fabaceae family. These types of wood are often found in South and Central America. Since the wood features a beautiful light brown to purple color and is easy to cut and turn, it's sold for higher prices. When exposed to ultraviolet (UV) light, the wood darkens to a brown color while having a slight hue to the original purple color.
Furthermore, the purpleheart wood is difficult to work with because of its higher density and more stiffness. However, it's durable and water-resistant too, which makes it quite more expensive than many other similar kinds of wood. Even if you don't have access to purpleheart wood, you always have the option of purple wood stain.
You can always give any wood a purple look, just like purpleheart wood, using purple wood stain. It's a great choice for furniture in gardens, including tables and chairs.
However, its application is wide among interior as well as exterior furniture, including cabinets, doors, decks, railings, chairs, dining tables, and more. Since it's a great choice for exterior use, you can expect waterproofing and resistance against wind, rain, and direct sunlight.
Characteristics of Purple Wood Stain
It makes a thick protective coating on the wood, which protects against wind, rain, and sunlight, especially against ultraviolet (UV) light.
It has a comparatively low odor to other stain options.
You don't have to be an expert while staining your wood purple because it's incredibly easy to apply.
What's significant about the stain is its pet and plant friendly, which means it won't hurt your pets even if they lick the stained wood.
You can use it for multiple purposes, such as decks, walls, railings, cabinets, chairs, doors, and more.
The most important feature of purple wood stain is waterproofing, which means it resists water while keeping the wood protected.
It doesn't mold either, which means the chances of peeling off reduces.
It is very easy to clean, and you may require only soap and water to clean it.
Last but not least, the stain is light, and that's why it dries fast and a lot quicker than many wood stains.
Uses Of Purple Wood Stain
People often use the purple wood stain for regular furniture like cabinets, chairs, railings, doors, dining tables, and more. However, it's ideal for fencing, sheds, and trellis because of its protection ability against water and sunlight. Furthermore, summerhouses, planters, and garden furniture are often stained with purple wood stains. Also you can try it for terracotta pots and masonry because of its easy application.
How Do You Get a Purple Stain for Wood?
Even if you don't have access to the purple wood stain, you can still get a purple stain for wood. You can try this at home and make the purple stain ready to apply to any wood.
To do so, you have to get purple cabbage and extract the stain from it. So, start with grinding the cabbage in a food processor and transfer a few tablespoons at a time to a fine strainer. Keep grinding, and try pushing the cabbage with the spoon until there's no juice left to extract.
Now repeat the process for all the cabbage you have depending on how much stain you need for the particular wood. You will end up with a foamy liquid, and it might also have a few strands of cabbage. You can grind the large parts again to get more juice. Run the liquid through a disposable kitchen towel or cheese cloth to purity the liquid you got after grinding.
Furthermore, you must end up with a clear foamy liquid in pure form. Keep it in a jar and store it in the fridge until you need it. Keep in the fridge for a few days so it gets ready to use for staining purposes. That's how you can make purple wood stain at home even if you don't have money to get it from the store.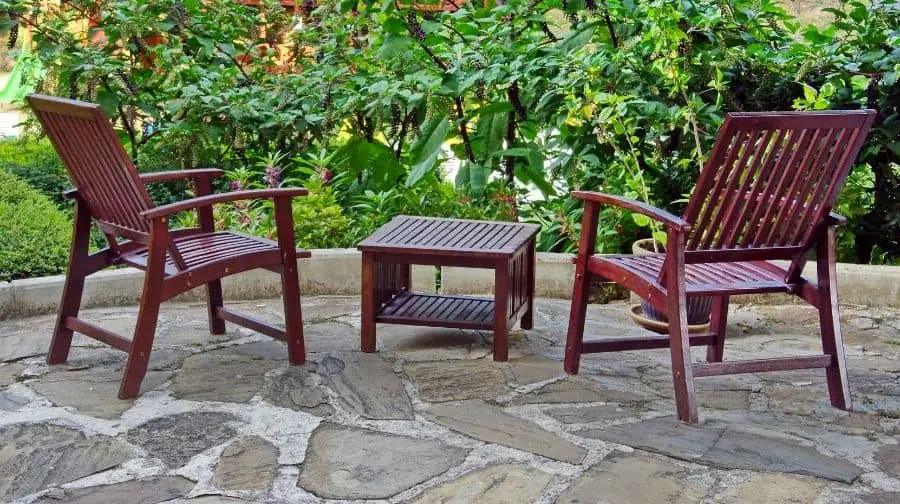 What Is The Difference Between Wood Stain and Wood Dye?
People often consider the wood stain and wood dye the same. To some extent, they are similar but not the same. Especially when you're a DIYer, woodworker, or carpenter, you must never consider them the same. There's a huge difference, and that's why applications also vary a lot. However, some features are the same, and that's why we say they are similar but never the same.
Let's go through some common and significant differences, so you can know why they are not the same.
The wood stain is a bit more expensive than the wood dye because it offers more features and color choices.
You can have more colors and further shades with the wood stain, but you're restricted to dark colors only in the wood dye.
The wood stain has comparatively larger particles than the wood dye. That's why these particles or pigments settle down in the can and need continuous stirring and shaking before use.
Wood dye is easily soluble in the carriers, like water, alcohol, and oil.
Both have the same three carriers; alcohol, water, and oil.
Wood dye penetrates deep into the wood, and chances of causing blotchy areas also increase.
The color of wood stain fades faster than the dye.
Wood dye offers more protection against outside hazards, such as rain, wind, rust, sunlight, and more.
Wood dye is perfect for both exterior and interior, while the wood stain is ideal for the interior only.
Purple Wood Dye – Vivid Purple Wood Stain Using Keda Wood Dyes – Wood Stain Colors Formula
Subscribe to Keda Wood Dye on Youtube
Purple wood dye formula to make a gorgeous Royal Purple Wood Stain using the Keda Dye (5) wood stain colors kit. This is just one variation of a royal purple wood dye formula, and is a base line formula where it can be customized further to the purple stain of your liking if desired.
Formula From This Video: (8) ozs Hot Water Red: 0.80 Grams Blue: 0.41 Grams Brown: 0.13 Grams
This purple wood stain formula is designed to work with Keda Wood Dyes and the dye ratios may not work with other wood dye brands.
Best Purple Wood Stain Exterior
Unicorn SPiT 5771009 Gel Stain is one of the best purple wood stains for exteriors as it has the ability to turn ordinary objects into personalized masterpieces. The stain is an excellent choice for crafters, makers, DIYers, hobbyists, and pros. You can make the objects look brilliant with their vibrant colors. It penetrates deep into the wood grain to provide the stunning finish you need.
Furthermore, you can use the stain on the interior and exteriors, including wood, glass, wicker concrete, laminate, pottery, metal, and fabric. The stain works best to enhance the color of existing finishes, highlights and brightens. What's significant is you don't have to spend a lot of money because it comes at an affordable price.
Purple Hill Majesty UNiCORN SPiT Wood Stain
Subscribe to Unicorn SPiT on Youtube
Love Purple Heart Wood?? UNiCORN SPiT Purple Hill Majesty can turn average pine into the same beautiful look!
Lavender Wood Stain
The lavender wood stain is a soft, pretty purple stain with a soft blue hue. The stain is often found in planting schemes from French lavender to lalics and lupins due to the nature of this traditional color. The stain is free of solvents and is exceptionally easy to use. Since the stain has high build formation and high solids content, it enhances the wood grain and resists fading while giving good coverage and leveling.
Furthermore, you may require two to three thin coats for rough and smooth timber to get the desired finish. Let's go through some of the famous characters of this stain.
Lavender Wood stain has low VOC (Volatile Organic Compounds) and offers long-lasting protection against external factors, such as rain and wind.
It has a low odor and is rich in long-lasting color.
It offers exceptional protection as it resists water and has fungal and mold protection while increasing the lifespan of the furniture.
Since the stain is loaded with tons of features, its use also increases. Let's throw some light on the applications too.
The stain is ideal for window frames, doors, and door frames.
Skirting boards, wood kitchen units, and cupboards often use this stain.
Exterior furniture and joinery look stunning with this stain.
Purple Deck Stain
Purple deck stain is a great choice for exterior use as the stain is famous for exterior furniture, including garden furniture, deck, railings, doors, and more. It works best in penetrating deep into the wood pores while giving a stunning look to your garden and the entire yard. Its protective and waterproofing ability make it a great choice for decks because it has to encounter water and other outdoor elements.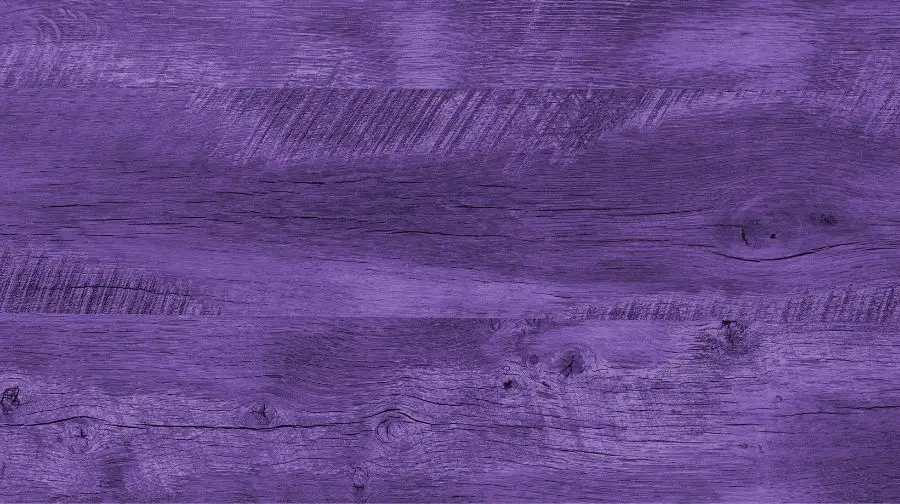 Minwax Purple Wood Stain
Unfortunately, you don't have the Minwax wood stain in purple color. In that case, you have a substitute, Unicorn SPiT 5771009 Gel Stain.  It works best on all types of wood, either interior or exterior. The stain penetrates deep into the wood while protecting it and lasting longer than many typical wood stains. You can also get the wood dye in the same color from the same brand that works fine too.
How To Create A Purple Stain Effect
Subscribe to Rustic Duck Furniture on Youtube
Recommended Posts: