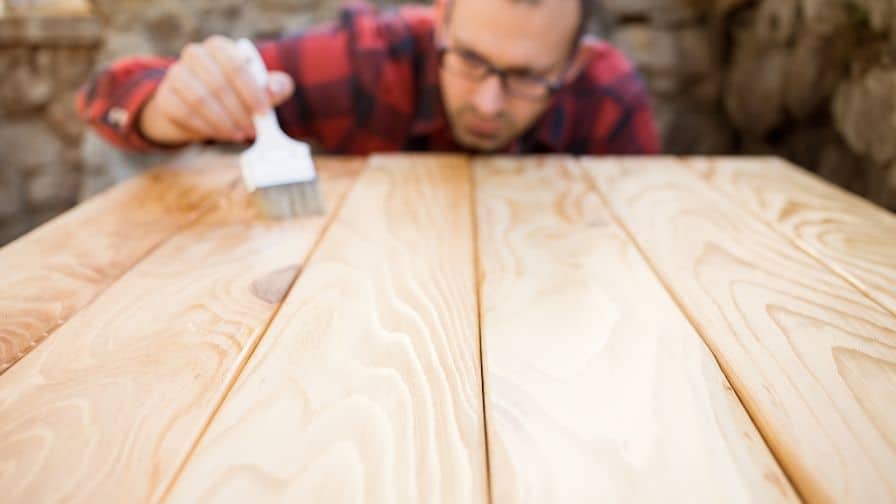 Thinning Polycrylic is a process that is necessary to achieve the perfect finish on your project. If you apply too much Polycrylic, it can cause streaks and other imperfections in the finish. If you don't apply enough, the finish may not become as durable or as smooth as you like.
In this blog post, we will teach you how to thin Polycrylic so that you can get the perfect results every time!
What Is Polycrylic And Why Do You Need To Thin It?
Polycrylic is a water-based product that can be used as a sealant, primer, and topcoat. You can find it in both clear and tinted formulas. Polycrylic is thinner than polyurethane, making it easier to apply. It also dries faster than polyurethane, so you won't have to wait as long for it to cure.
When you're applying it with a brush, you'll want to add water to the mix. The ratio is one part water to two parts polycrylic. This will help the product spread evenly and smoothly. It will also prevent brush marks from showing up in the finish. If you're using a roller, you can apply the product without thinning it first.
Polycrylic is a great option if you're looking for a durable finish that's easy to apply. It's also less expensive than polyurethane, so it's a good choice if you're working on a budget.
How To Thin Polycrylic For The Perfect Finish
Polycrylic is a great product for giving your furniture and trim a nice and smooth finish. But sometimes it can become tricky to get the perfect result.
If you find that your polycrylic is too thick, you can thin it down with a little bit of water.
Add a few drops at a time until you achieve the consistency you're looking for. Remember, you can always add more if you need to. But you can't take it away once it's mixed in. So start with less and work your way up as needed.
Subscribe to ThePapa1947 to YouTube
Tips For Using Polycrylic Successfully
Here are some tips to help you get the best results:
-Make sure your surface is clean and free of any dirt or debris before applying Polycrylic.
-Apply an even coat of Polycrylic with a brush, roller, or sprayer.
-Wipe up any drips or excess Polycrylic immediately.
-Allow the first coat of Polycrylic to dry completely before applying a second coat.
-Polycrylic can apply over light colors, but it may darken darker colors. Test it on a small area first to see the effect.
-Apply Polycrylic in a well-ventilated area.
Follow these tips and you'll take full advantage of everything that Polycrylic has to offer.
Can You Add Floetrol To Polycrylic
You can add Floetrol to Polycrylic, but it is not necessary. If you are going to add Floetrol, make sure to mix it thoroughly and slowly pour it into the mixture. Otherwise, your Polycrylic will not cure properly. Adding Floetrol will thin out the Polycrylic and make fewer brush strokes. It will also give you a little more working time before it starts to set up but it is possible to give your finished look a yellow tint.
We do not add Floetrol to Polycrylic because we have good results without it. However, if you are having trouble with your Polycrylic curing properly, or if you are getting brush strokes, then you may want to try adding Floetrol.
Can You Thin Down Minwax Polycrylic?
Yes, you can thin down Minwax Polycrylic with water. You can also use it undiluted. When thinning polycrylic, always add the water to the bowl first, then slowly add the polycrylic until you achieve the desired consistency. If you add too much water, put more polycrylic until the mixture is the correct consistency.
For most applications, a 50/50 mix of water and polycrylic is a good starting point. You can always add more polycrylic if the mixture is too thin, or more water if it's too thick.
If you're looking for a specific consistency, here's a quick guide:
– For a brushable consistency, add up to 30% water.
– For a sprayable consistency, add up to 50% water.
– For a pourable consistency, add up to 70% water.
Can You Thin Minwax Water-Based Polyurethane?
Minwax Polyurethane is a water-based product that can thin with water. You can use up to 20% by volume of water to thin the polyurethane. If you are using a brush to apply the polyurethane, you may need to add more water to keep the brush from drying out.
You should only thin polyurethane if you are having difficulty applying it, or if you are trying to achieve a certain effect. Thinning polyurethane will make it easier to apply. But it will also reduce the durability of the finish.
Recommended Posts: