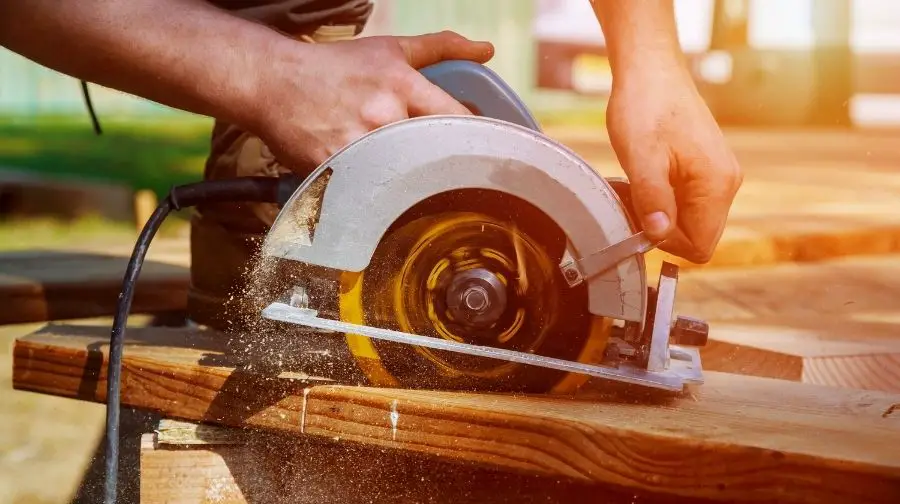 Cut through a 2×6 lumber or a piece of plywood with a hand saw, and there's likely to be not just a lot of puffing and huffing but a meandering line as well. Yet switch on a circular saw, and the cut will come out straight and easy.
What Is A Circular Saw?
A circular saw is a powerful electric saw that uses a flat blade or a toothed disc, which moves in a rotary, spinning motion to cut various materials, such as metal, wood, masonry, or plastic. It's a versatile must-have tool that comes in handy and serves its purpose well. It's conveniently portable and may be handheld or mounted to a machine. They glide through lumber in seconds and can be fitted with an assortment of blades that rip through everything from nail-embedded wood to concrete blocks and bricks.
The handheld type circular saw is a basic tool for every builder, carpenter, or home renovator and is widely used by home builders for home improvement as it's designed to make rip-cuts, crosscuts; it can even do both, and anything else you wish to accomplish with the circular saw, as it's also known as the workhorses of any construction jobs.
Purpose of Circular Saw
It's designed to make straight cuts rather than angles or curves. Pushing the circular saw off a line will cause the blade to bind, which may lead to a dangerous situation by kicking backward.
Style Based on Drive Mechanism
It's the toughest yet most powerful type of circular saw, making it perfect for heavy-duty jobs, like construction, framing, etc. The name is derived from a pair of gears, the worm that positions the blade and motor shaft at right angles to each other.
The design is also equipped with an oil-filled reservoir, similar to a crankcase that lubricates the two gears and dulls the circular saw's ear-splitting scream. Moreover, the blade's location on the left side of the motor makes it easy to see and follow the cutting line as you're working.
These models are incredibly lightweight and popular for their portability. It's an excellent tool for anyone doing less than a major construction job. In this model, the motor and the blade are aligned beside each other for a compact profile. Due to this, a woodworker won't be able to see the cut while using the saw. In order to get a clear view, you must lean over the saw, which can become tiring after long periods of use.
One of the best things about a sidewinder is that the user's hand is always at a safe distance from the blade. Sidewinder is the medium class, meaning it is lighter than worm-drive but heavier than trim style. It is used mostly by DIY enthusiasts, and it can cut wet lumber, plywood, and concrete easily.
Trims saws are not commonly used by professionals since this type of circular saw is designed specifically for small tasks. Trims saws are best used for cutting thin materials. They are very light thus very easy to handle and control. In most cases, trim saws are used for carpentry projects. Due to limitations in power and size, trims saws can be considered the lighter versions of a regular circular saw.
How to Use a Circular Saw. Everything you need to know.
Subscribe to Steve Ramsey – Woodworking for Mere Mortals on Youtube
What Materials Can You Cut With a Circular Saw?
You can cut many different things with circular saws; the only thing you need to switch out to do so is the blade; without a decent blade, a circular saw is nothing but a hand saw.
For woodcutting, the blade has teeth that actually chip the wood away and cut. Similarly, when cutting harder things like tile, concrete, and metal, the blade does not have teeth and is made out of a diamond-type material. This is because those are much harder than wood, and the wood blade wouldn't be able to cut through it. The blade would just grab the harder stuff and end up breaking or injuring someone.
Blades for Circular Saw
General-purpose circular saw blades contain 20 or more teeth and balance with durability and speed to create smooth cuts. 
If you'd like a blade for fine work, such as crown moldings or cutting window trim, then you need a blade varying between 40 to 60 teeth for a proficient yet smooth cut.
Veneered plywood used for paneling or cabinets should be cut with a plywood blade made up of a mass of tiny teeth like those on a hand saw, as these blades cut slowly without splintering.
If you want to perform a major yet heavy-duty construction job, then you must need a combination of different blades altogether. For cutting stone or concrete, choose a masonry blade, which has an abrasive edge that literally grinds through the material.
These Circular Saw Blades HAD ME FOOLED!
Subscribe to VCG Construction on Youtube
What is a Circular Saw used for?
It's a commanding tool that helps you cut through material accurately and quickly. They can either be cordless or corded, depending on the type you choose. The tool is also known as the workhorses of the woodworking industry due to its multipurpose usage.
It's meant for making straight yet 90-Degree smooth cuts.
You can also cut little curves other than a straight cut with it. 
It's a perfect tool for cutting lumber, plywood, or panels for various construction jobs.
It's designed to cut any type of material, but the relevant blade should be used.
Different types of circular saw equipped with a different set of features are readily available. Each user has specific requirements and personal preferences, and the available models make it easier for everybody to choose for their own needs. The best circular saw does not always have to be the most powerful or expensive, but one that suits your needs perfectly.
Recommended Posts: