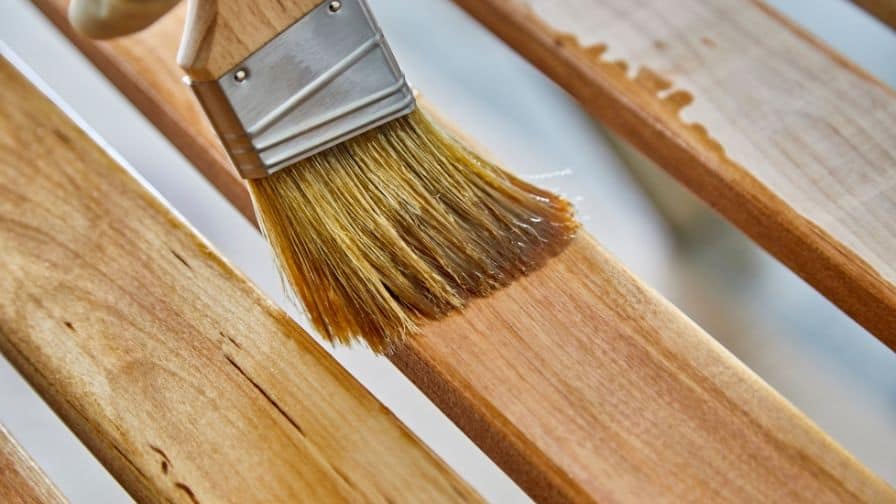 When you are finished painting your project with Polycrylic, you will need to clean your brush. This is a quick and easy process that only takes a few minutes. In this blog post, we will show you how to clean a brush after using Polycrylic.
How To Clean A Brush After Using Polycrylic
When using polycrylic, the best way to clean your brush is to simply use dishsoap and water. Run your brush under warm water and then lather up the bristles with some dish soap. Rinse thoroughly until the water runs clear. Finish by giving the brush a good shake to remove any excess water and then laying it flat on a towel to dry.
You can also use a brush cleaner to clean your brush after using polycrylic. Simply follow the directions on the brush cleaner bottle.
That's all there is to it! Cleaning a brush after using Polycrylic is quick and easy. Now that you know how you can get back to finishing your project in no time.
What Is Polycrylic And What Are Its Benefits
With the many benefits that Polycrylic provides, it has become a popular choice for finishing wood surfaces. Here are some of the benefits of using Polycrylic:
1. Easy to Apply
Polycrylic is much easier to apply than polyurethane. It can be applied with a brush or roller and dries quickly. There is no need to wait for hours or even days between coats.
2. Easy to Clean Up
Polycrylic is water-based, so it cleans up easily with soap and water. There is no need for toxic chemicals.
3. Non-Yellowing
Polycrylic will not yellow over time like polyurethane can. This makes it a great choice for finishes that will be exposed to sunlight.
4. Durable
Polycrylic provides a durable, protective finish on wood surfaces. It can be used indoors or outdoors.
5. Safe for Children and Pets
Since Polycrylic is water-based, it is safe for children and pets.
How To Apply Polycrylic
Subscribe to Stefan Rosen
When using a polycrylic, the application process is pretty straightforward. Start by stirring the can thoroughly to ensure that the finish is evenly mixed. Then, using a clean brush, apply a thin layer of polycrylic to your surface in long, even strokes. Make sure to avoid excessive brushing, as this can create air bubbles in the finish.
Once you've applied a thin layer, allow it to dry for at least two hours before adding additional coats. For most projects, two or three coats should be sufficient. When applying subsequent coats, be sure to lightly sand the surface with fine-grit sandpaper before proceeding. This will help the new coat to adhere properly.
As always, be sure to read the manufacturer's instructions carefully before getting started. And if you have any questions, don't hesitate to ask a professional for help.
What Do You Do With A Brush Between Polycrylic Coats?
You don't have to do anything special with your brush between coats of polycrylic. Just make sure you clean it well after each coat and let it soak for a few minutes. This will keep the brush from drying out and becoming brittle.
Can You Wash Polycrylic Out Of A Brush?
Yes, you can wash polycrylic out of a brush. Just use warm soapy water and rinse well. Make sure to dry the brush thoroughly before using it again.
How Do You Clean A Water-Based Polycrylic Brush?
Subscribe to Trailer Trash to Treasure
To clean a water-based polycrylic brush, soak it in warm soapy water for a few minutes then rinse it clean. Repeat if necessary.
How Do You Clean A Minwax Polycrylic Brush?
To clean your Minwax Polycrylic brush, start by soaking it in mineral spirits for a few minutes. Then, use a brush comb or your fingers to remove any excess paint from the bristles. Finally, rinse the brush with warm water and soap to remove any residual paint or mineral spirits. That's it! Your brush is now clean and ready to be used again.
Recommended Posts: