When carpenters have a party, they raise the roof.
Nothing messes up a Friday more than realizing that today is only Thursday.
When it asks on a job app who to notify in an emergency, always write 911
Click here for more woodworking jokes.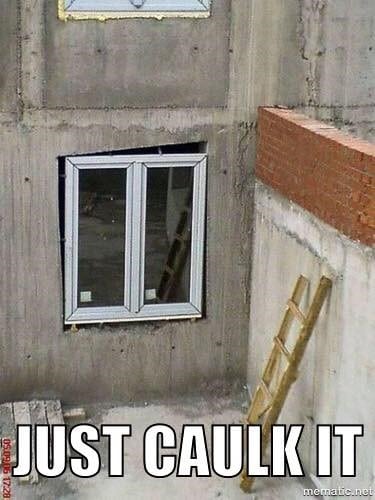 Click here for more woodworking memes.
What Kind of Wood Finish Should You Use? 
Subscribe to Steve Ramsey – Woodworking for Mere Mortals on YouTube
Finishing School 101: The Basics of Finishing Wood
Subscribe to Jen Woodhouse on YouTube
We cover the basics of finishing wood, which products and tools to use, and how to use them, with some extra pro tips and tricks! Stay tuned for the bloopers at the end 😉
5 Quick Wood Finishing Hacks – Woodworking Tips and Tricks
Subscribe to WoodWorkWeb on YouTube
Whether you're fishing a small wood frame or major home improvement project, there are many, many different options when it comes to putting a final finish on your woodworking and to make sure that finish goes on the way you want, there are often some tips and tricks that we can learn along the way to help us do a quicker and better job. When it comes to the topic of " wood finishing" many woodworkers (myself included) find the finishing process long and tedious, so anything we can do to help it along is a bonus. These tips should help whether you're using varnish, shellac or even a lacquer.
Staining and Finishing Wood Tips and Tricks
Subscribe to 731 Woodworks on YouTube
Staining and finishing wood tips and tricks. Staining wood tips in this video. Applying a clear coat to wood is the hardest thing to do in my opinion. I like using Minwax stain and General Finishes High Performance Top Coat. General Finishes is a water based top coat where there Minwax is oil based.
This is how to stain wood as well as how to apply a clear coat to wood. In this video, I tell you what works for me when staining wood with Minwax stain as well how to get a smooth General Finishes clear coat. Polyurethane finishes that I have used in the past and what polyurethane works best for me. I also recommend products that I use.
Staining and finishing wood can be tricky. I know I have had a lot of trial and error when it comes to finishing with a clear coat of urethane, polycrylics, oil based, and water based finishes. I have found that using an oil based stain produces the color that I am happy with while the water based clear coat gives me a finish that I can be pleased with. I hope this information is helpful to you. One of my favorite clear coats is General Finishes. In this video I show you how I apply General Finishes clear coat
12 Useful Wood Finishing Tips
Subscribe to Ron Hazelton on YouTube
Wood finishing tips to help you with surface preparation, coloring, staining, finish coat application, final surfacing and how to choose materials.