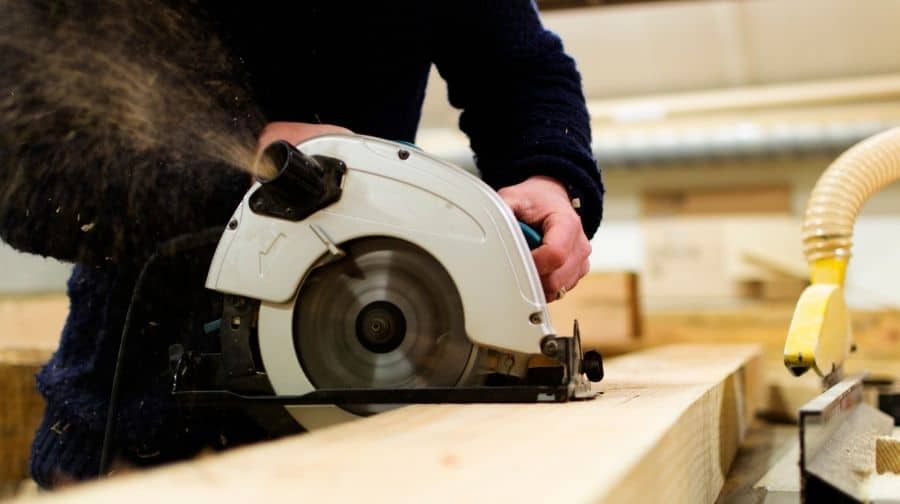 Power tools, including woodcutting circular saws, have been among the most imported products in the United States, having an import value of about 4.52 billion last year. This shows the importance of these tools and their need in the upcoming days for multiple purposes in the house and outdoors. 
When it comes to woodworking, a circular saw is preferred by DIYers and carpenters because of its wide range of features. Unlike a table saw, it can easily be transported across multiple places because of its lightweight.  Also, its sharp blades with high-grade steel and smooth base offers accurate cuts, which makes the beginner a pro.
That's why a circular saw is the first choice for cutting either steel, masonry, ceramic tile, or thick wood. Cutting thick wood might be a problem even for an experienced woodworker. In this case, a circular saw makes the cutting safe, easy, and accurate. Let's find out how a circular saw does the job and makes cutting a thick wood easy.
How to Cut Thick Wood with a Circular Saw?
It might not be easy to cut thicker wood than with a circular saw blade, even when you're an expert. This requires skills to get yourself protected, the best circular saw for accurate cutting, and a working technique to cut the thick wood right.
We made it easy for you by coming up with the five easiest steps, helpful for beginners and experts to cut thick wood. Make sure you go through the steps one by one, or you may ruin the entire process.
Step #1: Measure The Wood Thickness and Adjust Saw
Start with measuring the wood thickness and saw size. Make sure the thickness doesn't exceed double the size of the saw. Otherwise, it can be challenging to safely cut the wood. If the wood thickness is less than double the saw size, you're good to go. In other cases, use the blade with increased exposed saw size.
Step #2: Get the Wood into a Perfect Position
Place the wood at the end of the stand for accurate and precise cutting. Also, it avoids injuries and keeps you protected while going through a risky cutting process when the saw blade is exposed and causes damage. In addition, make sure to place the wood on a stand where you can have a good grip for comfortable cutting.
Step #3: Mark the Cutting Area with Pencil
Now grab the marking tools, including a pencil, scale, and measuring tape. Using a led pencil, mark the exact spot from where you want to cut the wood. Also, make sure to mark the entire wood from all sides as it will give you precise cutting from every side. Marking will help you make precise and accurate cutting that'll also avoid wasting wood due to wrong cutting.
Step #4: Adjust the Circular Saw Blades
Since you've already measured the wood thickness and marked it as well, it's important to adjust the circular saw blade accordingly. You can't just cut using a blade of any size because it won't offer perfect cutting. Know about your saw first and adjust the setting feature as per the wood thickness.
Step #5: Start Cutting
Before you start cutting, make sure you're in a comfortable position, the stand is stable, and your hands are not sweaty. Once your ready, make the cut. Keep your hands still for accurate results. If you're new, practice on wasted wood so you do not ruin the new one.
Bonus Tips
Now you know how to cut thick wood with a circular saw, let us give you some bonus tips that can make your cutting experience safe and accurate.
Tip #1: Wear Safety Gear While Cutting Wood
If precise cutting comes with a cost to your health, it's not worth doing. So, to avoid such a risky situation, we recommended using safety gear while cutting wood. For example, cutting wood causes a lot of dust and splinters that cause severe health issues. The dust, when inhaled, causes heart and lung disorders and, when not inhaled, causes eye problems.
So, wear a mask and glasses to prevent the dust from entering into your eyes and being inhaled. Also, wear safety gloves that keep your hand steady for accurate cutting and protect against serious injuries. You can wear earbuds to protect your ears against noise produced by a circular saw.
Tip #2: Store the Saw in a Safe Position
When you're done with the cutting process, store the saw in a safe position. As the saw requires maintenance for prolonged life, it's important to keep it in a safe place. Additionally, keep the saw unplugged and away from your kids to avoid injuries. Cleaning the saw helps it last longer to make the purchase budget-friendly, so swipe the blade and run oil through the saw for smooth working.
How to Cut Thick Wood with Circular Saw Video
Subscribe to Mellowpine Woodworking on YouTube
Learn how to cut a thick piece of wood like a 6×6 or a 4×4 using a circular saw. This is an easy tutorial meant for beginners. Make sure to press the circular saw against the fence for maximum accuracy. You'll also need to measure the offset of the blade from the edge of the base for knowing where to fix the speed square/straight edge.
Frequently Asked Questions
What is the Best Saw for Cutting Thick Wood?
MOTORHEAD Cordless Circular Saw is one of the best saws for cutting thick wood. It offers safe and deep cutting at any angle and features a metal blade guard for added protection. When you need to get a long straight cut, its rip fence guide helps you do the job without error. There's a vacuum section equipped that sucks the dusk to keep your eyes and body organs protected against the dust.
Moreover, the circular saw is equipped with a 2Ah battery that lasts longer while giving you hours of cutting outside the house. When the saw runs out of power, the indicator blinks to tell you it requires a recharge. If you're a beginner and looking for the best circular saw for easy and precise cutting, this one can be your best choice. Even if you're an expert, this saw can make your job easy.
Key Features
Its laser cutting guide offers the most controlled and cleanest cuts.
Its adjustable Bevel and Rip Fence provide precise cutting at any angle.
You can get maximum deep cutting even for the thick woods.
There's a dust collection and management port for a safe and clean working environment.
Its multiple batteries allow hours of cutting before it runs out of power.
The powerful MOTORHEAD series 7 copper motor makes the cutting incredibly easy.
Pros
Easy to Use
Budget-Friendly
Long-Lasting Batteries
Requires Less Maintenance
Comes with all the necessary tools
Durable and great looking
Cons
Customer service needs improvements
More blades should be included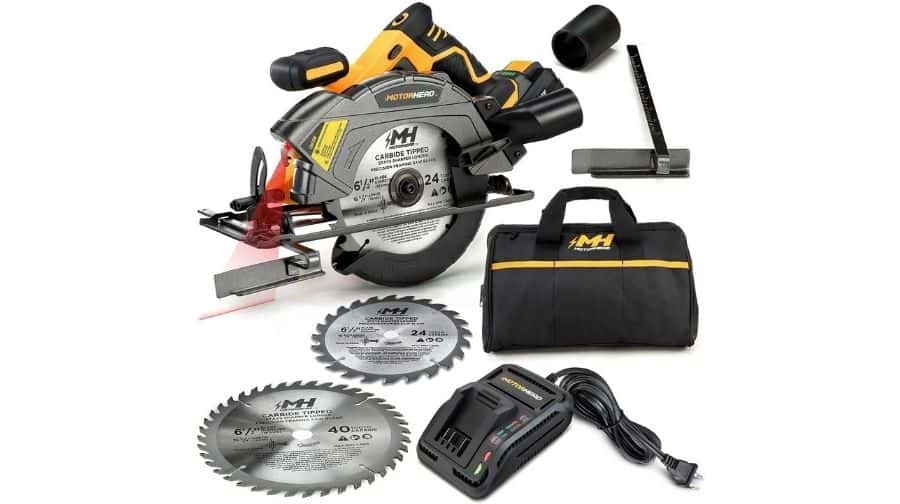 What is the maximum cutting depth of a circular saw?
A regular circular saw can offer a cutting depth of around 2.5 inches as the maximum cut. However, if you want a deeper cut, adjust the blade according to your required cut. You can easily move the blade up and down to align against the material before cutting. If you go for MOTORHEAD Cordless Circular Saw, it allows cuts up from 0 to 2-¼" deep at 90 degrees and a depth of 0 to 1.65" at 45 degrees.
How thick wood can a scroll saw cut?
Most scroll saws can easily cut thick wood between 1 ¾ and 2 ¼ inches. However, you can get the one that can cut on thicker woods, but this range is suitable because you can adjust the angles for further deep cuts. This measurement is perfect for home use but if you're a professional, consider a scroll saw with the ability to cut deeper as per your work requirements and the type of material you cut. Otherwise, if you want to cut metal, a scroll saw can cut only ⅛" deeper.
What is the best circular saw blade for cutting thick wood?
Freud D0760A Diablo Circular Saw Blade is one of the best circular saws blades for cutting thick wood. It is incredibly lightweight and contains 60 teeth that make the cutting easy and comfortable with prolonged life.  Freud offers exceptionally powerful and ideal for heavy-duty usage circular saw blades, and this one is its featured product that comes at an affordable price.
Key Features
The blade offers a 12-inch blade size rating.
It's the largest blade size that makes it ideal for heavy-duty usage.
The blade provides multiple teeth for precise and sharp cuts.
Its great built quality offers prolonged life.
The company offers a one-year warranty.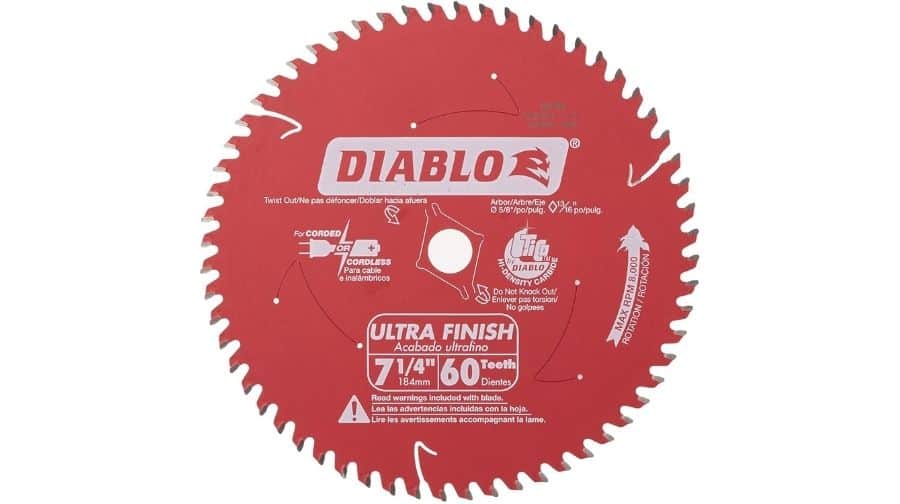 Cutting thick wood with a circular saw isn't easy for everyone, and that's why we don't recommend beginners because the process is risky and can do some serious damage. So, if you're a beginner and want to try anyway, read the instructions about the product, practice a lot until you have a firm grip on the tool, and then follow this step-by-step guide for accurate cutting.
Don't forget to wear safety gears that are specially designed to keep you protected against harmful saw cuts and dust. Once you take the necessary measurements, choose the best circular saw to make your cutting more accurate and the process safe.
Recommended Posts: