Before going into the details about the history of a circular saw, it's important to know what a circular saw is? It's a tool widely used by carpenters, woodworkers, and DIYers to cut wood, steel, ceramic tiles, and masonry. A saw comes in various sizes and shapes, but a circular one is famous because of its many benefits.
Years ago, a traditional hand saw used to work by moving forward and backward. But this one works by moving in rotary action using sharp blades. The term "circular saw" is used for both the cutting blade and the tool itself. Mostly these are used for cutting wood. However, heavy-duty work also requires a saw in most cases, including a cement block, concrete, tiles, and bricks.
Furthermore, a circular saw is divided into three main types — a single-handled saw, a dual-handled saw, and a table saw. The smaller circular saws are usually single-handled because of their use for smaller purposes. However, larger ones have dual handles, are equipped with a powerful motor, and are widely used for heavy-duty work, including home use and DIY projects. Last, the table circular saw is fixed to the table and works by moving forward and backward rather than moving the circular blades.
Now you have enough knowledge to know about the tool and can proceed further about the circular saw history.
When Was The Circular Saw Invented?
In 1923, Edmond Michel first developed the electric handsaw. He teamed up with a farmland developer, Joseph W. Sullivan, to make the improvements in the already manufactured electric handsaw. It led to The Michel Electric Handsaw Company in the same year. Later in 1926, Michel left the company and renamed it SKILSAW incorporation.
Following the same decade, in 1926, Skilsaw produced their Model E as diecast aluminum to innovate the tool with more power and lighter weight. After almost 10 years, another new model, Skilsaw Model 77, was invented that had a classic design. In 1985, Panasonic Electric Works got the patent for a battery-powered circular saw and started the most innovative electric saws. 
This is how one circular saw leads to another, and now every major tool brand has both cordless and corded Skilsaws. It was a brief history about how in the 20th-century circular saws evolved, but if we go further back in time, we have more details that will be discussed further in this article.
How to Use a Circular Saw. Everything you need to know.
Subscribe to Steve Ramsey – Woodworking for Mere Mortals on Youtube
Who Invented The Circular Saw Blade?
The history of circular saw started during the 18th century. However, its use dates back to prehistoric times, but as the information is not concrete, we will start from where we have evidence about the circular saw.
Walter Taylor — 1762
He was an engineer from Southampton in England who supplied many rigging blocks and pumps to the British Royal Navy. In his company, he has various table saws and machines that are included in circular saws. Still, we don't know if he was the one who invented a circular saw.
Samuel Miller — 1777
An inventor and sailmaker Samuel Miller in 1777 developed a machine and obtained patents for a saw windmill in Southampton, England. It was registered against patent number 1152 as the first patented circular saw machine.
Tabitha Babbitt — 1813
When it comes to the invention of circular saws, Tabitha Babbitt is the prominent person associated. She was the first woman from Harvard, Massachusetts, who worked on inventing this great tool and took inspiration from two shaker men working in a traditional pit saw.
Edmond Michel — 1923
The most authentic person known for the invention of a circular saw was Edmond Michel in the early 20th century. The initial design needed a power source, and that's why he had to combine it with others for the machine's innovation. However, the saw was able to cut the wood.
This was a brief history from the start about the circular saw, but when it comes to its inventor, Edmond Michel is the most recognized person. However, it was already being used but without the power to cut the woods.
When Was The First Electric Saw Invented?
In 1922, Raymond Dewalt created the first circular saw attached to a radial arm for great control of cutting direction and depth. However, Edmond Michel is the most prominent name for inventing the first handheld circular saw.  Some also believe Samuel Miller, in 1777, was awarded British Patent number 1152, but that was not exactly the same powered, handled circular saw created in 1929. So, we can conclude that it got modified over time, but three names Samuel Miller, Edmond Michel, and Raymond Dewalt, are well-known for inventing a circular saw.
When Did Circular Saws Become Popular?
This was the innovation process till the saw became a handheld circular saw. But it got famous when in the 20th century, Edmond Michel powered the saw with external energy. When he joined Skilsaw Incorporation, the electric circular saws were powerful enough to cut steel and similar tough materials. As soon as the circular saws were powered with electricity, their use abruptly increased and became popular because of their first choice by many woodworkers, DIYers, and carpenters.
In the beginning, the circular saw was powered using a treadle, where a pump was pushed by foot to spin the saw. Later in 1922, Raymond Dewalt attached a radial arm with the circular saw for better control cutting. A few years later, in 1929, Arts Emmons made more modifications by attaching the handle and making an entirely new handled circular saw.
Why are Circular Saws Called Skil Saws?
Since Skil Incorporation was the first company that combined with the electric circular saw inventor and named their circular saws as Skil saws. For example, Skilsaw Model 77 was first born in 1937 by Skil Company. As the circular saw was associated with the brand name Skil, it got famous by the brand name, and people started calling them skil saws. However, the Skil saw is also the same circular saw, having sharp blades, powered by electricity, and single and double handled.
What Are the Best Circular Saws?
When it comes to DIYers, carpenters, and woodworkers looking for the best circular saws, they prefer the ones with powerful copper motors, more blades, adjustable cutting depths and angles, laser guide, safety, and much more. So, based on these characteristics, we have gathered the two most used circular saws by the woodworkers because of their exceptional qualities. Let's find out more about these circular saws to see what's in them for you.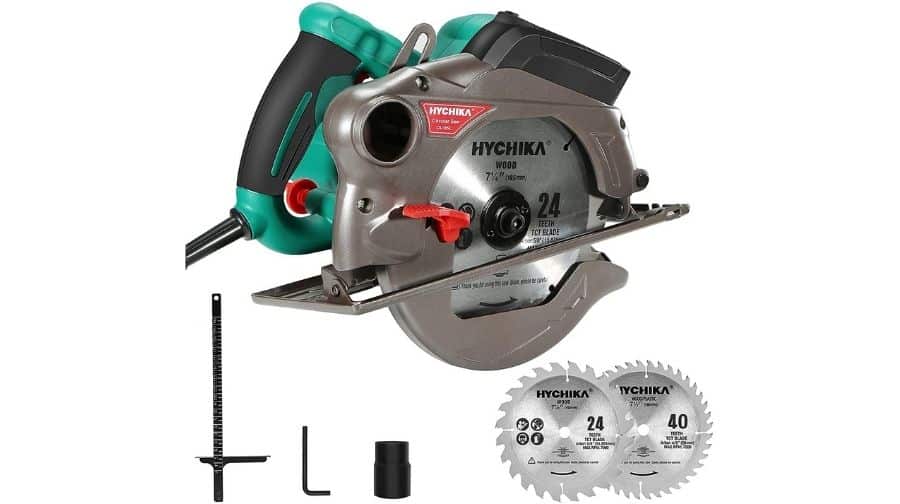 HYCHIKA Circular Saw is one of the widely used circulars saw for cutting woods and more. It comes at an affordable price with a stunning look that will warm your entire place. Since the saw is electric-powered, a powerful motor is used to cut the wood no matter how thick that is. Let's dive into more key features:
The box comes with all the required tools to start using right out of the box, including a circular saw, saw blades, wrench, button cells for laser guide, and a user manual.
There's a safety switch and aluminum guard that prevent the risk of any injury caused due to accidental turning it on.
The laser guide and scale ruler helps a lot, making the cut more accurate with extra precision.
It offers adjustable cutting depth and cutting angles to cut the material of varying thicknesses and at different angles.
The powerful copper motor with two sharp blades makes the cutting a lot convenient without getting tired by standing for hours.
There's a dust blower attached that prevents the dust from keeping the working environment clean.
Pros
Safe and Convenient
Offers Adjustable Depths
Provides Various Cutting Angles
Laser Guide Makes High Accuracy
No Need to Buy MoreTools to Start
Cons
It may overheat after prolonged hours of continuous working.
SKIL 5280-01 Circular Saw is one of the featured products offered by a well-known brand, Skil. It's another great-looking saw that has the ability to cut various thick materials within a few seconds with a laser to achieve extra precision and accuracy. Let's go into details about this machine.
There's an indicator light that turns on when it runs out of oil and needs maintenance for a durable lifetime.
The dust blower sucks the dust to not cause any hindrance that may affect the accuracy and keep the environment clean and safe.
Single beam laser guides you to make straight cuts to get accurate results without using annoying scales and tapes.
Its guarded trigger minimizes accidental start-up while keeping you and your kids the same who might touch it accidentally.
It is equipped with a strong, powerful motor that runs the sharp blades fast enough to cut the material within a few seconds.
Pros
Easy to Use
Astonishing Look
Safe to Use
Sucks Dust
Durable
Powerful
Cons
As a carpenter, DIYer, and woodworker, it's important to know about your working tools in detail. Since this one is the frequently used tool, you should have its past knowledge. Knowing about your tools makes you look professional, and you can easily decide when choosing them for your work. That's why we composed an article based on all the history of circular saws for your updated knowledge.
Recommended Posts: