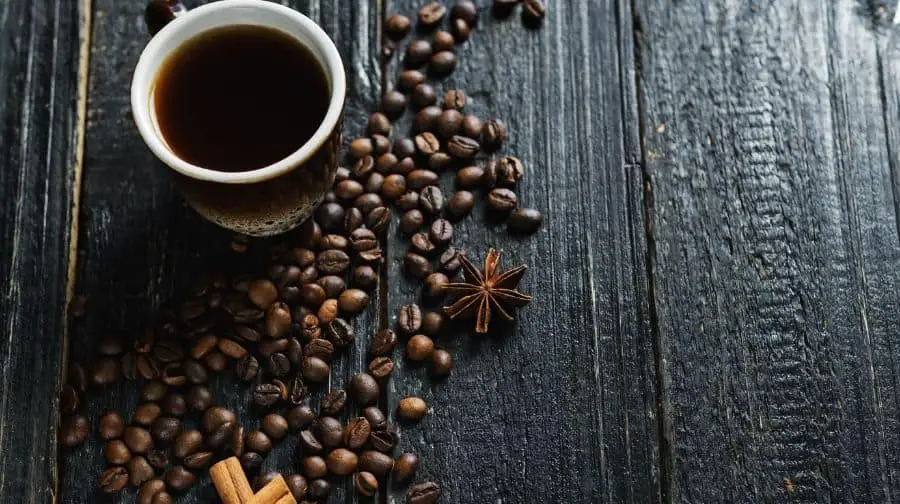 When it comes to espresso, the first thing that pops into anyone's mind is a beverage or, to be more precisely, coffee. But it's a wood furniture color as well. You can see tons of tables, cabinets, chairs, and doors that look chic, modern, and bold are finished with espresso wood stain. It's a very dark brown color that gives dark finishes to furniture, including cabinets, chairs, and many more.
Furthermore, its name is derived from espresso coffee because of its dark brown color. Its colors range between brown and black, mostly they are dark, either fully black or any shade of brown. The shades depend on the lightning used to either make them lighter or darker. Since dark color furniture is the choice of many wood enthusiasts, espresso wood stain is their first choice.
Moreover, the color looks decent and meets the color choice of many people who want to get dark shades in their house. Since it's very dark, people often mistakenly take it as a black color. In reality, the very dark brown color on the wood is due to the espresso wood stain. When it comes to the usage of espresso wood stain, it's used for a variety of items in the furniture. For instance, the most common uses include cabinets, sofas, chairs, tables, shelves, and more wooden items.
History
The term espresso is derived from the type of coffee cappuccino in Italy. In the 17th century, when Capuchin monks and nuns used to wear robes with a red hood, this word was borrowed. Since the color was red-brown and the same color was also for the coffee, people ended up calling the coffee cappuccino. Meanwhile, espresso also has almost the same color but with a darker shade; this was also named another type of beverage. That's why coffee, cappuccino, and espresso are connected.
That's why cappuccino color is often used in staining furniture. Espresso emits different shades of reddish hues under direct lighting. The colors change under direct light. Otherwise, there isn't much difference among all the shades of espresso wood stains. Some people often mistakenly take it with black color due to its darker shades. The basic hue remains the same, but it gives different shades under different lights. Let's throw some light on the advantages of using espresso wood stain.
Advantages of Espresso Wood Stain
Since dark color is the choice of many people to decorate their houses with darker furniture, it's famous for furniture like chairs, cabinets, doors, and more. At the same time, besides offering ambiance to the room, the espresso wood stain offers a wide range of benefits as well. Let's dive into some of the common benefits.
Elegant color
The dark brown color obviously meets the standards of any classic furniture. It makes the wood look elegant and classy. In contrast with white color, the dark brown color looks brilliant on computer desks.
Balance scheme
The dark brown color helps you balance the color scheme in your room. You might have light colors in your house. In that case, a darker one can balance the color scheme. For instance, the dark brown color balances the color scheme when used with white color.
Noble color
If you take a look at ancient furniture, espresso would be common. That's because it was considered a noble color, and still, people used it nobly.
Make you feel cozy
The chocolate-colored furniture in the room gives a soothing and calming effect to your eyes. It makes the area an excellent place to sit, have a cup of coffee, and talk for hours.
Practical and convenient
It looks clean and tidy because the dirt often hides in this color and is only visible when exposed to light. That's why you don't have to clean the wood stained with espresso too much for maintenance.
Neutral color
Espresso is a versatile color, which means you can use it for any wood in your house, including cabinets, chairs, tables, doors, lockers, and more. Since dark color is the choice of many house decors, they often end up choosing espresso color.
What Color is Espresso Wood Stain?
Espresso wood stain is a dark brown color, and people often mix it with black color because of its darker shades. The stain has a wide range of shades between brown and black. Its shades change from light brown to dark brown and further black under the lighting.
Espresso wood stain has a wide range of applications in furniture, including chairs, tables, cabinets, doors, and more. The dark color enhances the ambiance of any room while giving a noble look while hiding the stains and dirt particles on the wood. Unless the wood is exposed to the light, the dirt doesn't show up.
Applying Odie's Espresso Pigment | DIY Non Toxic Wood Stain
Subscribe to Odie's Oil on Youtube
How Do You Stain Dark Wood Espresso?
Staining the wood with dark wood espresso isn't different from staining any other color. The process is simple and easy; even beginners can end up perfectly staining the furniture with dark wood stain.
Let's go through these steps one by one to stain dark wood espresso:
Step 1: Since the wood is dark and the color you're staining is also dark, the process is quite simple, but you have to make the wood ready first.
Step 2: Clean the wood with a damp cloth to ensure there's no dirt or any other material stuck on it.
Step 3: Get sandpaper of medium grade; it could be around 120-grit. Sand the wood nicely to ensure the surface is smooth enough to apply the espresso wood stain.
Step 4: You might need further sanding. This time get sandpaper of higher grade. It can be around 220 -rit. Sand the surface again precisely while making it smooth and ready to adhere to the espresso wood stain.
Step 5: Wipe off the sawdust with either brush or damp cloth to ensure there's no dust from sanding or dirt left on the surface.
Step 6: Get the espresso wood stain of the best quality and rub it all over the wood using a rag or cloth. You can use a bristle brush too, but cloth is recommended. Also, make sure you're rubbing or staining in the direction of grain patterns on the wood.
Step 7: Wipe off the excess stain and let it dry for a few hours. Usually, water-based stain takes around two hours, and oil based stain takes more than 24 hours. So, provide the relevant time period to let the wood dry naturally.
Step 8: Once it gets dry, you can give it another coat if needed. Since it's already a dark color, another coat may not be needed.
Step 9: Let the wood dry naturally and wipe off the wood using a damp cloth and ensure there's no blotchiness.
Step 10: Finally, you can apply polyurethane sealant to enhance the durability and make the stain stick firmly besides offering protection to the wood against external factors like wind, rain, and sunlight.
Can Wood Stain be Darkened?
Primarily, espresso wood stain is a darker stain, and you won't need to darken it further. Still, if you have any other lighter stain, there are a few ways that can help you darken the wood stain. Here's the list:
You can sand the wood as much as you can, even if you have to use high-grade sandpaper of 150 grit. Once you make the surface ready for staining, you can easily darken the stain than before.
Another way to darken the stain is to increase the ratio of pigments. It can be done by adding more pigments.
Leave the stain on the wood, and don't wipe the surface soon.
Apply multiple coats and keep adding more coats until you have the darkest color you need.
Wet the wood with water and let it dry naturally. Now the stain would be a lot darker than before.
Get the darker version of wood stain to stain the wood darker.
Last, apply a polyurethane sealant that adheres to the stain perfectly and keeps it darker for a prolonged time.
What Wood is Best for an Espresso Stain?
Hard maple is the best choice for espresso stains as its light wood, and darker stain like espresso would fit perfectly well. The espresso stain can boost the appearance of maple wood while giving the perfect color and textural aspects.
The hard maple wood would absorb the espresso stain at the right level to offer a rich and deep brown appearance anyone would love to have in their house. That's why hard maple is often used for cabinets, chairs, tables, doors, and other indoor, outdoor furniture, especially when stained with espresso stain.
Can You Stain Wood with Espresso?
Yes, you can stain wood with espresso stains but make sure the wood is stained is not soft. Otherwise, you won't be able to get the desired finish. Since the espresso wood stain is darker and richer in color, try staining harder or lighter wood with this stain. You can use coffee to stain the wood, as it contains the same color as the espresso wood stain.
How Do You Apply Black Stain to Wood?
Application of dark color stains to wood is quite easy. However, you have to be extra careful about blotchy areas. Otherwise, the rest process is the same.
All you need to do is sand the wood first using medium-grade sandpaper first and then with higher-grade sandpaper. To do so, make sure you make the surface perfectly ready for the black stain to apply. Since it's a darker stain, the chances of blotchiness increase. So, first, fill the pores that can lead to blotchy areas with a pre-stain wood conditioner.
Furthermore, wipe off the surface and clean it precisely using a damp cloth. You can wet the surface if you need a much darker stain, but as it's already black in color, you may not require further darkness. Get a rag and dip it into the stain box. Make sure you properly shake the box before using it as the chances of pigments settling down increase. Rub the rag on the wood and make sure you're following the same direction as the grain textures on the wood. Wipe off the excess stain and cover the blotchy areas. Apply any sealant to end the finish for enhanced durability.
Applying Dixie Belle No Pain Gel Stain in Espresso to a Farmhouse tabletop
Subscribe to Sisterhood of the Traveling Brush on Youtube
Espresso Wood Stain on Oak
You'll get red overtones when staining the red oak with brown espresso. It can make the red oak look dull as it's already darker in color.
The oak already has a natural ambiance, and grain is slightly visible. That's why espresso isn't recommended on oak to get the best output. However, you can try it in the oil-based form to get the desired finish as oak works best with oil-based stain, which can be time-consuming but offer efficient results.
Espresso Wood Stain on Pine
Pine is a hard to stain wood because of its uneven dense grain that never gives you an even result. So when it comes to espresso wood stain on pine, the results can be a little different than usual because the darker color on pine can hide the uneven grain density as the espresso is already denser in pigments. As a result, you may end up achieving even results. Still, it depends on the person who's staining and how he can manage to cover the uneven dense grains.
Espresso Wood Stain Cabinets
Cabinets are at the top of the list of applications of espresso wood stain and looks stunning. In the kitchen, the use of espresso wood stain abruptly increases mainly because of the cabinets and then dining tables and chairs. You can often see dark brown cabinets in nearly every kitchen. When staining the cabinets, make sure you remove the hardware first and clean them.
Further, you can sand the cabinets lighter to make them ready for staining. Remove the dust again using a damp cloth. Let the cabinets dry before you apply the espresso wood stain. Now it depends on how many coats you want to get the desired finish. Since the color is already dark, you may not require multiple coats. Still, you can try more than one coat to get the darker colors.
Espresso Wood Stain Floor
If you're more into the dark ambiance in your house, espresso wood stain can be the perfect choice to stain your floor dark brown. However, you may need high maintenance because even a small peeling from a corner will be clearly visible from a distance. That's why people often choose light colors for staining the floors. Still, you can give it a try because the dark floor in contrast with white or off-white walls looks absolutely brilliant.
Espresso Stain Color Wows This Customer- Duffy Floors
Subscribe to DuffyFloors on Youtube
Espresso Wood Stain Pen
Espresso wood stain pen is the best option to repair minor blemishes and scratches on stained wood furniture, floors, moldings, cabinets, and more. The pen is easy to use and includes a one-step method to apply. There's no need for sanding as the purpose is to cover the affected area only.
Furthermore, it doesn't take more than 30 minutes to fully dry while making it quick to fix the issues. Its tip allows quick precision staining in hard-to-reach areas. When looking for the best espresso wood stain pens, Varathane 215361 Wood Stain Touch-Up Marker is the best choice at an affordable price. You can get this one in a wide range of colors. The pen is absolutely easy to use and makes the staining in small spots quite comfortable.
Espresso Wood Stain Spray
Krylon K02738007 Fusion All-In-One Spray is the ideal option when staining any wood for increased durability and rust protection. Besides wood, you can stain plastic, metal, PVC, tile, and more. It's a great choice for both indoor and outdoor staining materials because of its protection against rust, rain, wind, and sunlight.
Furthermore, the spray is easy to apply, and you don't need a brush or rag. Simply press the nozzle, and you're good to apply, but you may have issues with blotchiness. You may need a rag or cloth to cover that area. The rest is incredibly straightforward. You can have a modern, cozy, and unique feel from this exceptional spray.
Espresso Wood Stain Minwax
Minwax Wood Finish 227634444 Espresso Stain is the first choice of many woodworkers, DIYers, and carpenters as it's offered by a famous brand, well known for offering quality products for the woodworking industry. Since it's oil based wood stain, it penetrated deep into the wood to give perfect results. The stain somehow dries a lot quicker than many other oil based stains. Still, it takes time because oil based stains take more time than water based stains.
Furthermore, you get rich colors for different furniture, like cabinets, floors, doors, chairs, dining tables, and more. When it comes to its application, the stain is incredibly easy to apply and doesn't take much time. When applying, wait for around 5-15 minus to let the stain dry and then wipe off the surface. Last, Minwax has been America's leading wood care and wood fishing brand since 1904, and it's one of their featured products.
Recommended Posts: