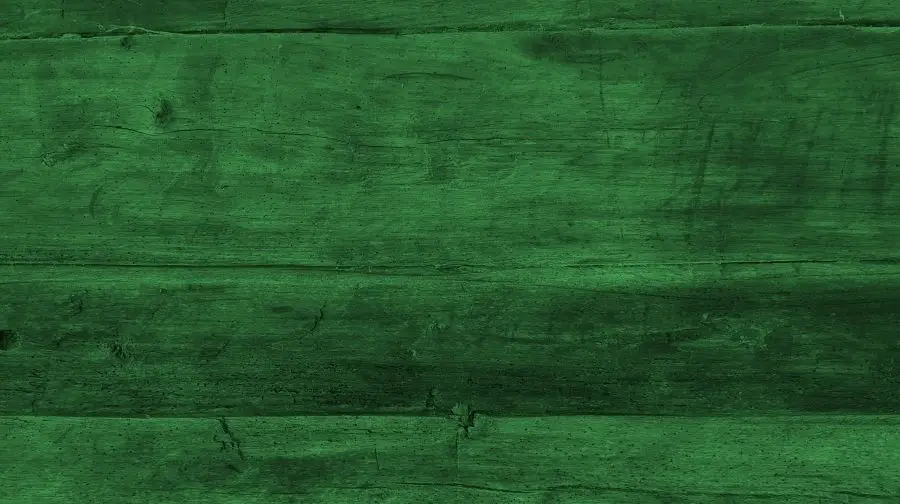 Green wood stain is a soft and mellow green color, inspired by British Tree. It can be used as a detailed wood stained with a combination of Silver Fir and to compliment Spruce. The stain brings soft hues of countryside to any fencing, trellis, and garden building or furniture. It's exceptionally easy to apply and clean up, which means you don't need to be an expert in woodworking to manage this stain.
Furthermore, what's significant about green wood stain is its waterproofing ability that protects the wood while keeping water and rust away. Also, it helps the stain last longer than usual, making it one of the most durable wood stains. The stain nourishes all types of external wood while providing your garden brilliant color and protection against external harmful factors, such as rain and wind.
Green Wood Stain Applications
Most significantly, the stain is often used for garden furniture because the green color looks brilliant on the exterior.
Planters, sheds, and trellis also look stunning when stained with green wood stain.
Since fencing is also outside, the stain is an ideal choice as it protects against water and rain.
Last, you can consider it ideal for masonry and terracotta pots too.
Green Wood Stain Characteristics
As already mentioned, green wood stain is incredibly easy to apply and you don't have to be extra careful in its application.
At the same time, when you need to clean it up, you only need water and soap.
It has low odor which makes it an ideal choice for interior uses too.
Since it's ideal for interior as well as exteriors, you can use it for multiple purposes, including garden furniture, doors, railings, fences, and more.
When it comes to protection, it can resist water and rust, which are two important factors that affect the stain's durability.
So, we can conclude that it can last longer than any other typical stain. The stain also resists mold, which makes it even more protective.
When it's in water-based form, the stain dries very quickly, within a few hours.
Emerald Green Stain Made With Dye For Wood – Bright Emerald Green Dye
Subscribe to Keda Wood Dye on Youtube
How to Choose Colors?
When you have a lot of color choices selecting one becomes quite challenging. Some people consider green as a single color, but when you peek into the stain market, you see a variety of shades. Let's see how to choose the best one.
Painted Finish: It's comparatively thick and became famous recently. Some common colors that can be best under this situation include lime white, spring green, pond green, olive green, sage leaf, Ivy green, lime green, or jungle green.
Stained Finish: It's considered classic, and the colors we will choose can offer prolonged protection too. We recommend choosing willow, soft sage, pale sage, grass green, and spruce.
Best for Decks: Since people often end up re-staining decks, chose the one that can last longer and does not require re-staining any time soon. The list includes only light green and dark green colors.
Best for Shed and Fence: As it covers both protection and glamorous look because fence and shed are the exteriors. The colors include dark green, light green, moss green, and pale green.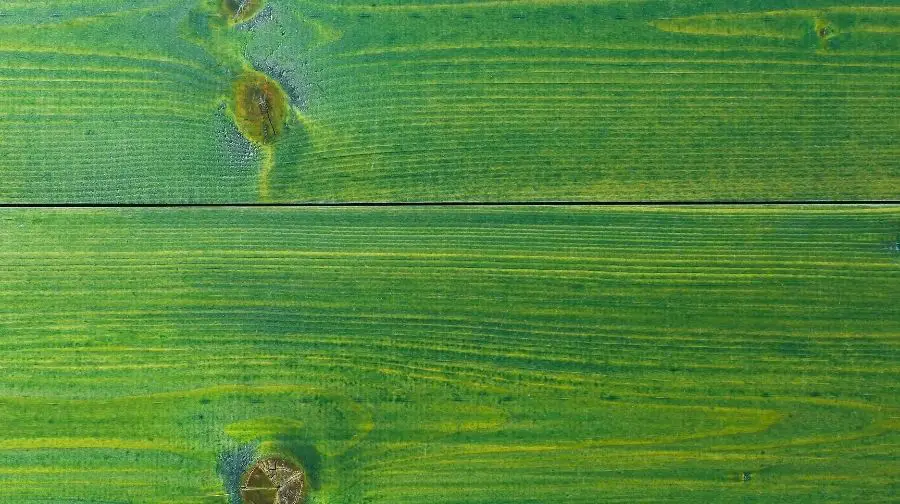 Can You Stain Wood that is Green?
Yes, you can stain wood that is already green, but it might not be a good idea. The green wood can only be green when it's wet. In that case, it may take more time for the stain to dry. At the same time, when both get dry, the chances of blotchiness are much higher. As a result, you may have to add multiple layers of stain, and it may cost more than usual. Also, you must have the expertise to cover the blotchiness.
However, there's a good side too. It means the stain can sink into the wet wood quite easily compared to dry wood. As a result, chances of peeling and cracking are much less likely. Still, it would be a good decision to choose dry wood to stain for your convenience and to lower the total cost. Because you can easily end up with blotches, streaks, spots, and waves. The only way to avoid such bad results is by adding more coats than usual or let some experts stain the wood.
How Do You Make Green Wood Stain?
If you don't want to buy expensive green wood stains from the stain store, you always have a choice of making wood stains at home. However, you may not be able to use home products to make such wood stains. Still, there's a lot you can try. To do so, get watercolor pencils.
Another efficient product is oil colors that you often buy for coloring projects, especially kids use for school projects, artists for painting, and more. Now get a neutral color stain and add green color oil paint into the stain. Stir for a while until the stain gets mixed and becomes green. It's the best and cheapest way to make green wood stains at home. Using the same method, you can make wood stains of any desired color.
How to make DIY Colored Wood Stain
Subscribe to DIYeasycrafts on Youtube
Does Stain Come in Green?
You have a wide range of stain providers, even in green color. Green stain is often used for wood, including indoor and outdoor furniture. That's why manufacturers offer in bulk because of the higher demands by the DIYers, carpenters, and woodworkers. Minwax is one of the most popular brands for making wood stains, and when it comes to the green wood stain, Minwax Express Color Wiping Stain 308064444 is their featured product in green.
Furthermore, SamaN Interior Water-Based Wood Stain comes in green color, and it's different for each wood, including oak, walnut, and more. The company has been in the wood stain business for almost 20 years.
Varathane is another popular company that offers wood stains in a wide range of colors, and Varathane 297426 Premium Fast Dry Wood Stain is in green. Then comes Luminos LUM1106 Kale Green Outdoor Wood Finish, which is the best choice for outdoor furniture to stain green. Its new formula offers rich pigments that offer protection against UV rays, rain, mold, and frost.
PureColor Eco-Friendly Wood Stain is the best choice if you are on a low budget. Still, the product offers almost the same features as the other expensive green wood stains. Last but not least, Rust-Oleum 1904A Wolman is one of the cheapest ones and is incredibly easy to use while offering durability as well.
Why Does My Wood Stain Look Green?
If you're not staining your wood green and still it looks green, chances are the wood you're staining is wet and showing its original color. Woodworkers who stain fresh wood before letting it dry often face this issue. As a result, blotchiness is the first problem they face; streaks, spots, and waves can also be a common issues when staining fresh wood, which is still wet.
Does Minwax Make a Green Stain?
Yes, Minxwax does make green stains, and Minwax Express Color Wiping Stain 308064444 is their featured product in this color. This stain is super easy to apply, and you don't have to be an expert woodworker for it's application. Also, it's super easy to dry and doesn't take more than two hours if the wood being stained is dry. You can get a brilliant finish if stained well, and there's no problem with odor as well. This green wood stain offered by Minwax offers excellent durability while protecting the wood against external factors, like rain and wind.
How to Green Burst Dye a guitar
Subscribe to Northstar Guitars on Youtube
Exterior Green Wood Stain
Green wood stain is a great choice for exteriors because of its protective nature that offers safety against rust, water, and UV rays. You can easily find waterproof green wood stains that can be an excellent choice for staining exterior furniture, like garden furniture, railings, doors, and more.
Since water is the most harmful element for reducing stain durability, the wood can get protection against water with waterproof green wood stains. That's why woodworkers and DIYers often go for green color for extra protection.
Green Wood Stain for Furniture
Green wood stain is highly recommended for exterior furniture because of its protective nature. People find it odd to stain interior furniture with green wood stains, such as chairs, dining tables, cabinets, and floors. It might not be a great choice for inside furniture.
However, it's the best choice for exterior furniture and especially when the wood is wet. You don't have another option other than green wood stain for wet wood because it matches the original wet wood color and makes staining quite easy. Still, you may end up getting blotches, waves, and streaks, only when you haven't done it right. Last, you can do multiple coatings to cover such issues.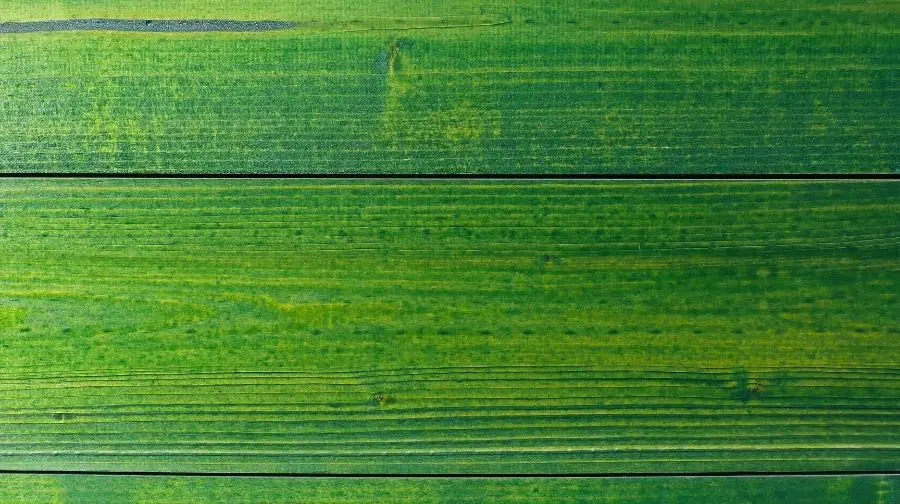 Recommended Posts: