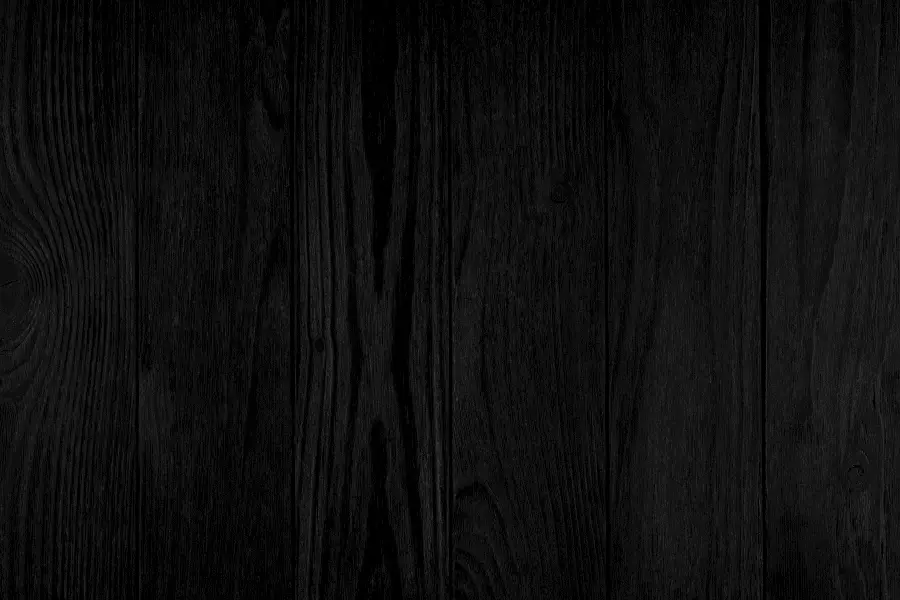 Black wood stain has become super popular among woodworkers, especially because of how popular the dark wood look has become in homes. There has been a boom recently of darker wood stains in hardwood flooring, cabinets, and other furniture around the house.
So, what is a black wood stain? What can you use it on? Today, you'll find all of that out and more as we go over staining wood black!
What Is Black Wood Stain?
Black wood stain is a fast drying oil, gel or water based formula that deeply penetrates wood pores highlighting the natural wood grain that can be applied with cloth, brush or foam applicator and is ideal for use on all interior wood projects like furniture, cabinets, doors, trim and paneling.
A lot of times, if you're looking to buy furniture, you'll find that if it's black wood, it might be more expensive? Why is that? Because it has already been stained that way! When you stain wood black, it's not the same as painting, and there's a different feel to it, but we'll get into that later.
Many woodworkers love to make furniture, and something that can give it just a little more of a personality is to stain it black. This way you can add a little of your own flair. It's Especially popular because many woodworkers love to save money, and building the furniture and staining it themselves will save a lot of money. It's a great feeling of accomplishment when you build something for yourself and stain it, and then you see it in your home looking how you imagined it!
But, you also stain the furniture that you have bought previously and get the same effect. A black stained wood piece can be an eye-catcher, and it's a great statement piece for any home.
Curious about The Ultimate Red Wood Stain Guide Please consider reading our article about the topic at this link here https://topwoodworkingadvice.com/the-ultimate-red-wood-stain-guide/
What Is Black Wood Stain Used For?
Black wood stain is used for a variety of different pieces of furniture, cabinets, doors, trim, paneling and one of the reasons it is so beloved by customers and woodworkers is the pattern that it creates in the grain. It can create an almost zebra look that is very popular and exotic at the same time. It adds a little flair to any piece of furniture without getting too flashy.
Black wood stain is also used to create a smooth and durable finish, which is great for tables and desks that take some of the wear and tear from your house. Whether it's eating, working from home, doing homework, or coloring with your kids, a black wood stain will hold up, and not show as much of a mess as other stains will.
It can also be used on wood chairs, dressers, bedside tables, even bed frames! Each piece has its own difficulty level, however, and you need to be careful to not ruin your furniture. But, black wood stain can also be applied over an existing finish, if you have a stain that you used and you didn't like, or if you just want to change a piece that you bought.
You can find a piece of furniture to stain black in almost every room! A nightstand and a dresser in the bedroom. Your office desk and hutch. Your TV stand and a coffee table along with your end tables in the living room. Even your dining room table and chairs! Black wood stain can really give a rustic look and a pop that will catch anyone's eye!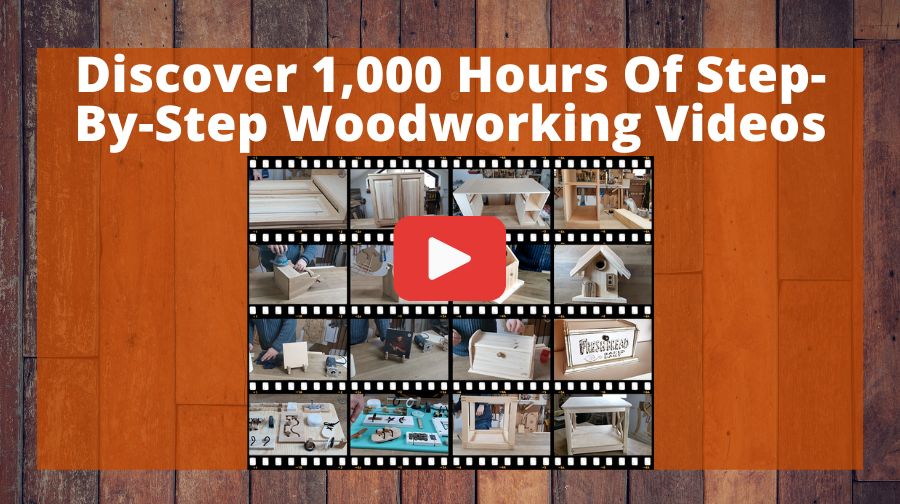 It's called Woodwork101. A database of detailed videos and blueprints in crystal clear, mouth-watering HD that will take you by the hand and show you that DIY home projects done the right way are easy, fun, and always of top quality… turning a dream into reality in a heartbeat. Getting you that perfect build each and every time.
Black Wood Stain vs. Painting Furniture Black
When you're staining a piece of wood a solid color like black, there are a lot of people who logically will think, "why not just paint it black?" Well, this is because painting something and staining it aren't the same, and these are the reasons why.
The first reason is that when you're painting something like a desk, or a chair, it's going to need latex paint. And latex paint can get very thick. You're going to at least need two coats of primer and two coats of paint as well. That's 4 coats, and you can feel the four layers of stuff you put on your furniture when you look at it. When you paint something, especially a nice piece of furniture, it looks painted, almost unnatural. But a stain brings a sleeker look and feel. This is also because you're doing less to it. You can get a stain that will go on in one coat, and last for years with no sign of wearing like paint will.
However, you have to be aware that the stain needs a lot of time to cure, it can take anywhere from a few days to a week to cure, but you're left with a solid color that feels smooth, natural, and durable.
You'll also have to clean it up with paint thinner because it is oil-based. You're going to have to either clean up or throw out a paintbrush when you finish, but the results are worth it! And, if you don't want to clean a brush, you can get a high-quality foam brush like the ones Wooster makes. They also make a bristle brush that is specifically for staining. Either way, you get a nice, even finish that lasts years on end!
Curious about The Ultimate Blue Wood Stain Guide Please consider reading our article about the topic at this link here https://topwoodworkingadvice.com/the-ultimate-blue-wood-stain-guide/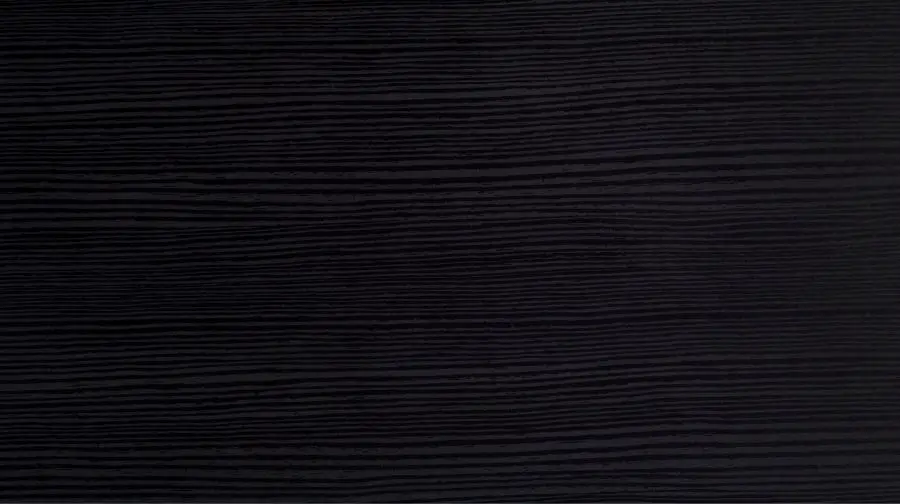 What Is Ebony Wood And How Is It Different From Black Wood Stain?
Ebony wood and black wood stain are often confused for each other because they're so close in color. But, ebony is not a solid black color. It's more of a very dark brown that can easily be confused with black.
Ebony is a bit lighter and allows more of the true wood pattern to be exposed. Meanwhile, a true black wood stain is more opaque and covers the grain of the wood. This leads to a smoother and more contemporary look.
Your preference of the two really depends on the look you're going to and how much each stain will cost you. So, if you like the wood grain and the pattern that is under it, then ebony would be better for you.
But, if you're going for a more solid and smoother look that is pure black, with no grain or pattern, then the black wood stain will get you what you want.
Something to keep in mind though is that real ebony wood is very expensive and rare. It is a highly sought after commodity by Americans, but when most people hear the price they opt for some other type of wood.
Another disadvantage of ebony wood is that it can't be sanded to be lighter. So, if you spend all of that money on ebony hardwoods, and you decide that you want a lighter color, you're going to be out of luck. But with black wood stain, you can lighten the color of your wood when you sand it.
There are many options for hardwood flooring that is dark out there, but if you're looking for a good-looking and affordable option, then the black wood stain is a way better option than ebony floors.
Curious about The Ultimate White Wood Stain Guide Please consider reading our article about the topic at this link here https://topwoodworkingadvice.com/the-ultimate-white-wood-stain-guide/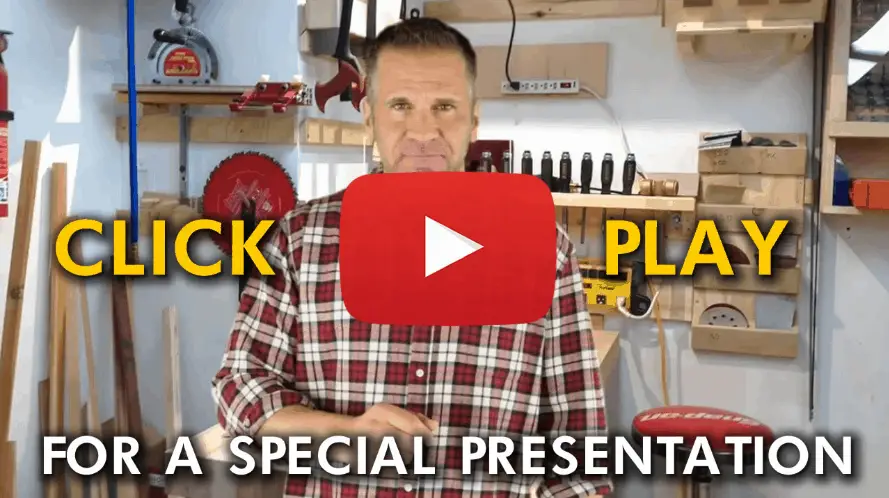 A woodworking friend of mine shared this video by Ralph Chapman with me that helped him set up his workshop. 
The video explains the benefits of Ralph Chapman's guide about setting up an affordable workshop and avoiding the most common mistakes offers to anyone interested in woodworking.
How to stain oak black. | Homemade ebonizing wood |
Subscribe to Old Rusty Crafts on Youtube
Exterior Black Wood Stain
Another main reason a lot of people will choose black wood stain is for wooden decks. This is because of the nice clean look that black gives to an outdoor deck. Instead of painting, true black staining allows for a simple, clean look that is not too thick while still giving a smooth look that will last.
Especially when you're doing an outside deck, you want the color of the wood to be very durable, and a black wood stain will be much more durable than paint. So, if you have an outdoor area that needs to be stained, then black can be a great color for you, and it's a better and easier option than painting.
How To Stain A Deck Black For Beginners
Subscribe to Malik Bhai on Youtube
How To Stain Wood Black
When you're going to stain wood black, you have to do it in a certain way, or you can risk messing the whole thing up or risk it not lasting. So, here are the steps to use black wood stain on your furniture.
First, you need to pick the best black wood stain for you, but we'll go over that soon. Then what you want to do is sand the surface of your piece. You do this with a fine to medium grit piece of paper until it's a little roughed up and then wipe it off.
Next what you want to do is stir the stain very well. This is a very important step because you don't want it to be too thick. Then you're going to dip the tip of your brush into the can and begin at the center of your piece. Move from the center to the edges of the piece with light, long strokes. Remember to not apply too heavily, and continue staining until it's covered. If you have to do a couple more light coats, it's better than doing a coat too heavy.
Remember, if you're staining a piece of furniture that has been stained before, then you may encounter some dots that line the piece but don't worry, that's going to happen and it doesn't mean that you did anything wrong.
Then let the stain dry and go at it again with the sandpaper. After you do that, you want to clean the piece with a cloth to remove any dust from the sanding. You do this to make sure it's all clear and you can catch any drips.
One tip that you need to make sure to do is have proper lighting on the furniture from all angles. This way you can make sure that your stain is reaching all over the piece. When you follow these steps you will end up with a great-looking and durable black-stained deck!
Best Ways To Ebonise Wood?
Subscribe to The Wood Knight on Youtube
The Best Black Wood Stains
The first step in staining any piece of wood black is finding the best black wood stain for you. So, what are the best black wood stains? Here are some of the best ones that you can find on the market today.
The first one is Minwax. This is an oil-based stain that is very popular because it doesn't take many coats, and it's semi-transparent, so you still get a little bit of the grain pattern showing through. And, it dries very quickly, in about 3 hours you're piece will be dried and ready! Minwax also sells the polyurethane that you need to apply after it has dried to protect the stain and make sure it lasts.
Minwax True Black Stain Review
Subscribe to BMVLifestyle on Youtube
General Finishes is another brand that makes a premium interior black wood stain. This is a gel stain, which means it will not penetrate into the wood as deeply as an oil-based stain will. So, this means that the color will be richer, but you will need more coats. This also includes their topcoat, which you need to wait about a day after your last coat to put on. This stain can also be mixed with other General Finishes stains to give you even more color options! Before using you need to wait about a week, and then after 30 days, it will be fully cured.
The next brand is Verathane. Their process is much easier. This is because you get their stain and polyurethane all in one. So, it's a fast and simple solution that is best for people just getting into staining that maybe haven't done it before and are looking for a way to dip their toes in. You only need to apply two coats, while waiting two hours to recoat and dries in 4 hours. And you get that rich color and smooth finish that comes with any black wood stain!
If you're looking for a good exterior black wood stain, then you can get a Behr house and fence solid color black wood stain. This stain combines oil and latex to create a long-lasting and rich colored stain that is great for fences and siding. It is built to weather any weather, so you don't have to worry about it fading in the sun, mildew growing on it, or rain washing it away. Your outdoor needs can be taken care of!
Recommended Posts: